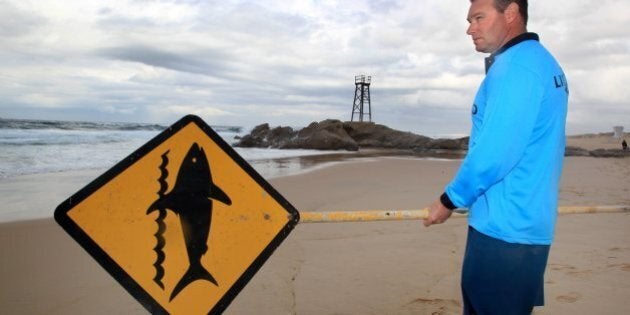 A shark attack deterrent first conceived in the 1930s is making a comeback at the 2015 NSW Shark Summit on at Taronga Zoo today.
A non-lethal underwater electric fence is one of several 'new' technologies being debated by 70 of the world's top experts to mitigate the increasing number of shark attacks on Australian beaches.
Department of Primary Industries senior research scientist Dr Vic Peddemors said scientists were cognizant the strategy was first suggested by the Shark Menace Advisory Committee in 1934 after a spate of attacks including a fatality at Dee Why.
"Some of [the Shark Menace Advisory Committee's] shark mitigation strategies then are very similar to what we're talking about today," Peddemors said.
"In 1935 it didn't get the green tick but maybe now we can look at electrical cables to mitigate shark bite… as the technology has moved forward."
He told The Huffington Post Australia an electromagnetic barrier was promising and a trial was due to commence in South Africa.
"We're looking to a trial of an electrical barrier in South Africa," Peddemors said.
"Unfortunately, last summer the sharks stayed away before the trial started so we're no closer to knowing if it works."
Associate professor Daryl McPhee explained the electrical barrier worked without harming the shark.
"Sharks have seven senses not five like humans, and they have a very sensitive ability to pick up electrical currents in water," McPhee told HuffPost Australia.
"Just like playing loud music, that sense can be overwhelmed by an electric current."
"It only affects sharks and rays," McPhee said.
"Unfortunately, every shark may react to the electrical current differently.
"Robust research is key."
The summit hosted by NSW Premier Mike Baird, is analysing an independent review of emerging technologies with experts from as far afield as South Africa.
Options on the table include real-time apps which track and notify beach-users of tagged shark proximity, electronic repellents, plastic shields, and shark-detecting buoys.
The summit comes ahead of an Australian summer on top of a year that has already seen increased shark activity, especially on the NSW north coast.
Primary Industries, Lands and Water Minister Niall Blair said all options were on the table - - except culling great white sharks.
"White sharks are protected and they will not be culled in NSW," Blair said.
Blair also said it was unlikely strategies discussed today would be immediately implemented this summer.
"We've brought together the best scientific minds to look at the emerging technologies available to us," Blair said.
"Any device that goes in NSW waters will be rigorously tested."
As different devices are debated today, conversation returns to the Shark Menace Advisory Committee of the 1930s.
"We have more than 2000km of coastline and some measures will work at one location but not another."