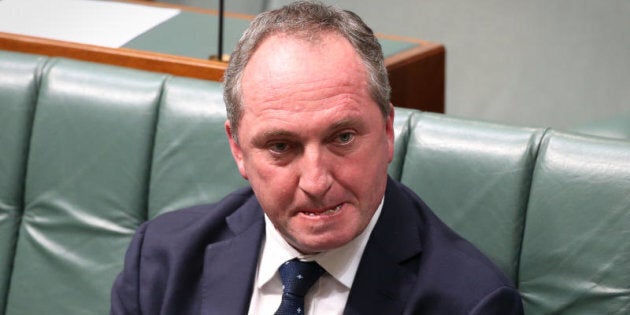 CANBERRA -- Head bowed and spirits low, Australia's second most senior politician, Barnaby Joyce, entered parliament on Tuesday under sustained attack after the revelation he was a dual New Zealand citizen.
Joyce told waiting media he was "shell-shocked" by the discovery he is a NZ citizen by reason of descent, and the Deputy Prime Minister is not alone.
His Turnbull Government colleagues have launched a furious defence in the form of an offense. From Prime Minister Malcolm Turnbull down, Coalition MPs have turned the attack on the Labor Party, which has questioned the legitimacy of the Turnbull Government and its slim majority after the Joyce revelation.
Labor is being accused of a conspiracy, "borderline corruption" and colluding with a foreign political party.
Bill Shorten, we are told, is trying to "steal government" and it "stinks to high hell".
The Opposition continues to press the one-seat majority Government over its legitimacy and calls for Joyce to relinquish his ministerial role and his right to vote in the House of Representatives.
"I was born in Tamworth. My great-grandmother was born in Tamworth," Joyce said on Monday.
"I only had it confirmed on Thursday from an inquiry that was made in New Zealand that apparently my father being a New Zealander, I was a New Zealander. Now I am trying to fix it up. I am sure the High Court, (which) is vastly wiser than me, will come up with all of the answers."
The confidence is catching. The Deputy Prime Minister will not step down.
"The balance of opinion by the Attorney-General is the more likely outcome is clear we should continue on with our work," Joyce said.
New Zealand citizenship rules state that if a parent is a New Zealand citizen at the time of a child's birth, then that child also holds New Zealand citizenship by descent. A person does not have to register the citizenship, it comes automatically at birth.
On Monday, the New Zealand Prime Minister Bill English confirmed New Zealand's claiming of Joyce.
But it all came about following enquiries from the New Zealand Labour Party.
New Zealand Labour leader Jacinda Ardern has on Tuesday confirmed Australian Labor asked NZ Labour frontbencher Chris Hipkins to look into Barnaby Joyce's citizenship status.
Just who in the ALP is not known.
Assistant Treasurer Michael Sukkar has told Sky News that the cross-Tasman dealings "stink to high hell, to be quite honest".
"You have got an Australian political party working with a foreign political party to undermine our domestic government," he said.
"That is a very, very serious issue.
"This is really borderline corruption, in a sense. Colluding with a foreign political party. This is something we have never seen before. Not since the old days of worrying about Soviet Russia. That is how long since we have had to worry about these sort of things."
Labor's Manager of Opposition Business, Tony Burke, claims not to know anything about it, telling ABC Radio that those questions were asked, "Absolutely not to my knowledge; not to my knowledge at all".
The NZ frontbencher Chris Hipkins appears to be regretting his actions. And he is not naming who he spoke to in Australian Labor.
"Had I known this was where it was going to land up I wouldn't have got involved," he said. "I had no intention of getting involved in Australian domestic politics."
The Turnbull Government is attempting to turn attention to Labor and what questions may or may not be hovering over its own MPs.
Five Labor members have been named: Justine Keay, Susan Lamb, Brendan O'Connor, Maria Vamvakinou and Tony Zappia.
"There are serious questions are now being raised about some Labor politicians. And Mr Shorten has not been forthright about this and he ought to be," Attorney-General George Brandis said.
"We expect him as the alternative Prime Minister to show that he is capable of being forthright and honest with the Australian people and if he refuses to be, people will draw the obviously conclusions about Mr Shorten's lack of character."
Labor is accusing the Government of distraction. Tony Burke has told ABC Radio, Labor's administration is robust.
"What we do is before anyone's allowed to nominate we have to find the country of birth of their parents, and of their grandparents, and whether their parents or grandparents, to their knowledge, had any foreign citizenship," he said.
"If the answer is yes to any of those, then a team of lawyers work with the candidate to make sure that all the requirements of Section 44 have been met.
"So, it's a cumbersome process, but no-one is allowed to have their nomination even put in."
But, as yet, Labor is refusing to release documents relating to the five Labor MPs, leaving the party open to government accusations of "stonewalling".