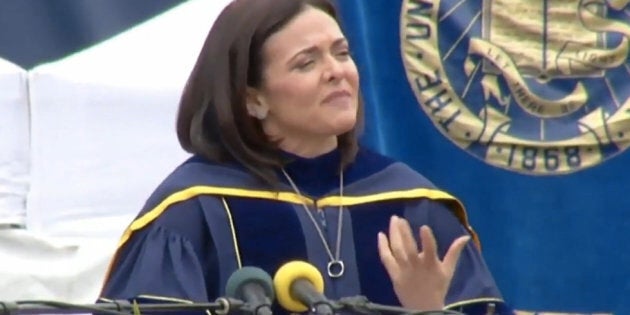 Facebook Chief Operating Officer Sheryl Sandberg discussed lessons she learned from her husband's unexpected death last year during an intimate speech to the University of California, Berkeley's graduating class on Saturday.
It was the first time that Sandberg, 46, publicly spoke about the death of her husband Dave Goldberg, the CEO of SurveyMonkey, during a trip to Mexico last May.
"Dave's death changed me in very profound ways," Sandberg said. "I learned about the depths of sadness and the brutality of loss. But I also learned that when life sucks you under, you can kick against the bottom, break the surface and breathe again. I learned that in the face of the void -- or in the face of any challenge -- you can choose joy and meaning."
Sandberg told the crowd of 4,700 graduating seniors to be resilient when faced with adversity. "You will be defined not just by what you achieve, but by how you survive," she said.
After her husband died from a cardiac arrhythmia, Sandberg blamed herself as she scoured his medical records for missed warning signs. This was a mistake, she said.
"His doctors had not identified his coronary artery disease. I was an economics major; how could I have?"
During this period of grief and self-criticism, Sandberg became familiar with the research of psychologist Martin Seligman, who described people's approach to confronting adversity with "three P's" -- personalization, pervasiveness and permanence.
"The first P is personalization—the belief that we are at fault. This is different from taking responsibility, which you should always do. This is the lesson that not everything that happens to us happens because of us," Sandberg said.
She returned to work and her children went back to school 10 days after Goldberg's death, because psychologists encouraged her to return them to a normal routine, she said. And trying to get through an office meeting while still mourning, Sandberg realized that at least briefly, she could escape the second P — the pervasiveness of her sadness.
"I remember sitting in my first Facebook meeting in a deep, deep haze. All I could think was, 'What is everyone talking about and how could this possibly matter?' But then I got drawn into the discussion and for a second — a brief split second — I forgot about death," she said.
"That brief second helped me see that there were other things in my life that were not awful. My children and I were healthy. My friends and family were so loving and they carried us—quite literally at times."
Permanence, the third piece of the puzzle, is the "belief that the sorrow will last forever," said Sandberg. "For months, no matter what I did, it felt like the crushing grief would always be there."
Her rabbi advised her to actually embrace the pain, though he used a phrase out of Sandberg's own playbook for career success.
"My rabbi told me that time would heal but for now, I should 'lean in to the suck.' It was good advice, but not really what I meant by 'lean in,'" she said.
Sandberg said that knowing about the three P's would have helped her with earlier struggles. She described her first day of work after college, when she felt "terrible at everything" because her boss had criticized her lack of knowledge of a computer program. The lessons would also have been applicable during breakups and her divorce from her first marriage, Sandberg said.
"The three P's are common emotional reactions to so many things that happen to us -- in our careers, our personal lives, and our relationships. You're probably feeling one of them right now about something in your life," Sandberg said. "But if you can recognize you are falling into these traps, you can catch yourself."
Though she's filled with "a huge reservoir of sadness," Sandberg said she also celebrates life more than ever before.
"I used to celebrate my birthday every five years and friends' birthdays sometimes," Sandberg said. "Now I celebrate always. I used to go to sleep worrying about all the things I messed up that day — and trust me, that list was often quite long. Now I try really hard to focus on each day's moments of joy."
Her full speech is available via The Los Angeles Times.