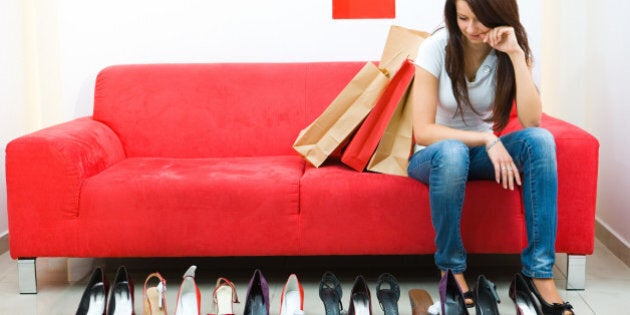 Australians spent a whopping $24.8 billion dollars in November 2015 alone -- thanks to Christmas gift shopping, Cyber Monday and the Spring Racing carnival.
According to Australian Retailers' Association figures, we then continued to spend up a storm in the post-Christmas sales, with retailers around the country taking in a further $16.8 billion from Boxing Day until January 15.
What is it about hitting the shops and buying stuff that makes us so happy?
In The Journal of Global Scholars of Marketing Science psychologists shared insights about consumers shopping for pleasure. The psychologists likened shopping to an escape from 'real life', that's similar to the pleasure of a hit of illicit drugs.
Women are particularly noted for shopping to get away from the everyday ordinariness of their life, with some consumers shopping as a mood regulatory device.
So if it feels good, what's the problem? Jemma Enright from Moneybrilliant told The Huffington Post Australia the problem is the addiction to feeling good overrides the need to budget, or spend within our means.
"The desire to shop wins out over the hit taken to the credit card or bank account. A shopaholic is defined as a person who has the inability to control their spending and has the habit of going out shopping and purchasing compulsively. Given the momentary pleasure leads to future money stress, there is a sure need to stop, but many people find it difficult to stop," Enright said.
"We're all different but it can take a 'Money uh-oh moment'. This could be one of many things, such as a late fee or balance on a credit card, a declined transaction or the lack of funds to go on a holiday. Whatever it is, grabbing this moment and running with it could be the absolute best thing that you can do for yourself."
So it's very important to have a strategy to get your spending less and stay away from the shops.
Here are Enright's top tips for taking control of your finances and mending your shopaholic ways :
Find a "no budget" budgeting app, that will track your spending and keep you in the green.
Take a moratorium from shopping, 4 weeks, 8 weeks or 12 weeks.
Find alternatives to shopping when your mood is low -- visit a gym, go for a walk, meet a friend at a café that's not in a shopping mall.
Take the time to make a financial goal, something that you really want that you can focus on when the desire to go shopping is strong.
Put your spending in perspective. Check your statements to see how much has gone on retail therapy in the last 3-6 months. What you could have done for this amount?
Plan your shopping trips and go with a list and a limit.
Use your shopping time to rework your wardrobe and consider selling clothes that you no longer use.
Leave your credit card at home, if you have to go back for the item you could decide it's not worth the hassle.