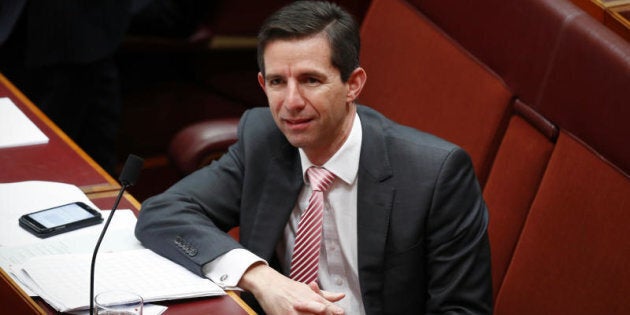 CANBERRA -- A major event to encourage political participation by young women is going ahead without the most senior politician after Education Minister Simon Birmingham was paired with a 32-year-old woman instead of an "adolescent girl advocate".
The organiser of "Girls Take Over Parliament", girls' rights agency Plan International Australia has unreservedly apologised for the mix up, but the minister has pulled out in "disappointment" due to Plan's "misrepresentations".
It is understood the woman's involvement was unintentional and she has also withdrawn from the event.
Set up to tackle low female political participation, the takeover event sees young women take over, or shadow, politicians for a day. Held for the first time in Australia this year, the successful international event was tied in with last Wednesday's International Day of the Girl, but had been delayed in Australia by a week to fit into the next parliamentary sitting week.
The key to the mix up is that the Facebook invitation for young women did not mention any age requirement, while Plan was, in fact, running the "girls" event for young women aged 18-25 due to child protection laws.
The Minister - one of only two Liberal participants in the event - stated the original invitation to him did not define 18-25 years for participants and was expecting a girl to be matched with him. Instead, as he wrote to Plan over the weekend, Birmingham was surprised to be paired with 32-year-old activist and blogger Shafeen Mustaq.
As his letter shows, Birmingham had been first advised Mustaq was 35 years old.
"As Education Minister, a senator, a supporter of empowering women and a father to two young girls I was most happy to accept your invitation. I did so based on the explicitly created expectation that a girl would be nominated to work alongside me for the day to promote the need to 'see girls lead, decide and thrive'," Senator Birmingham wrote in a letter seen by HuffPost Australia.
"Without wishing to reflect on the woman in question, how Plan considers the nomination of a 35-year-old (sic) political activist and blogger in any way meets your criteria or the reasonable expectations of participants is inexplicable, unless driven by alternative activist motivations.
"This appears to be in direct contrast to the approach taken internationally where adolescent girls have shadowed various other political leaders, genuinely reflecting the commendable objectives attached to the program. I regret that due to the misrepresentations involved, my office will not be participating in the program."
Plan International Australia has apologised for the age mix up and has stated there was no intention to mislead Simon Birmingham.
In a statement, Plan said the error in selection was a "simple oversight and certainly one that our organisation will learn from".
"This is in no way a reflection on the young woman who was placed with Minister Birmingham, who has graciously volunteered to step out of the event," the statement read. "It is a mistake that Plan International made in running the competition and we apologise to Minister Birmingham and his staff and the young woman involved."
Plan has offered to pair the Minister with a young woman under 25 and is waiting hear his response.
"We hope he will accept this offer and continue with the takeover event in celebration of young women's leadership," the statement said.
"We will continue to engage with Australian parliamentarians on girl's leadership and participation in political life. We hope that this does not detract from the important issue of gender equality for Australian girls."
HuffPost Australia understands another two women older than 25 have subsequently been discovered in the program.
The takeover event has been successfully held in previous years in Canada, Uganda, Paraguay, India and Nepal.