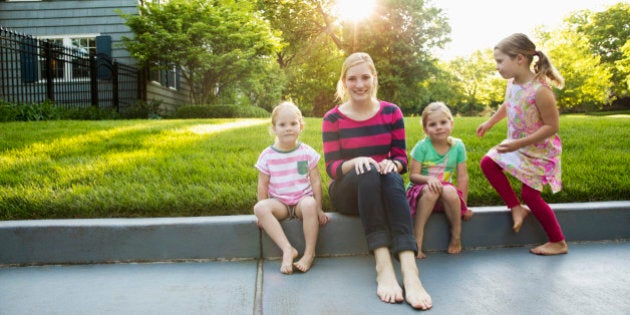 Sittr, a mobile app service recently launched by Sydney based husband and wife team James and Samantha McKinnon, aims to make parent's lives easier by simplifying the search for a trusted and reliable babysitter.
"We have three kids aged seven, four and two. In early 2014, we sold our home and said goodbye to Australia for twelve months to explore the world with our kids. Whilst overseas we were ordering a car or taxi service using an app and accessing reviews before booking accommodation, but finding childcare was still a real pain point. And that's where Sittr was born," Samantha told The Huffington Post Australia.
Much like other service-outsourcing apps such as Uber, parents can search for a sitter by location and when they are ready to make a booking, enter the time, date and duration.
Unlike many babysitting services, Sittr doesn't charge more for extra children. There are no booking fees or monthly membership fees either. Instead parents pay an hourly rate, which is collected by Sittr via credit card at the time of booking and sent to the babysitter on completion.
"Keeping on trend in the digital age, we are completely cashless. There's no need to stop at an ATM on the way home and no awkward conversations about rates," said James.
It was very important to the pair to ensure that the approval process for would-be carers was very selective. All sitters undergo an identity check and hold a Working with Children Check (Blue Card in Queensland) that is issued by the government after a thorough background check.
All sitters also have a current First Aid qualification that includes Asthma and Anaphylaxis training, and most have formal childcare qualifications or have years of experience looking after children.
"All bookings made through Sittr are covered by a $10million Public Liability insurance policy. We found it rare for sitters to carry their own insurance because it requires a high upfront investment, however with our policy in place we are able to provide additional piece of mind for parents and carers without the extra cost," said Samantha.
Available in all major capital cities and some regional areas too, Sittr is actively recruiting babysitters in key holiday destinations in preparation for summer holidays and have received considerable interest from overseas families requesting help for upcoming trips to Australia.
"We want families to have access to trusted child carers so we're focussing on expanding to regional areas and researching key overseas holiday destinations frequented by Australians," said Samantha.