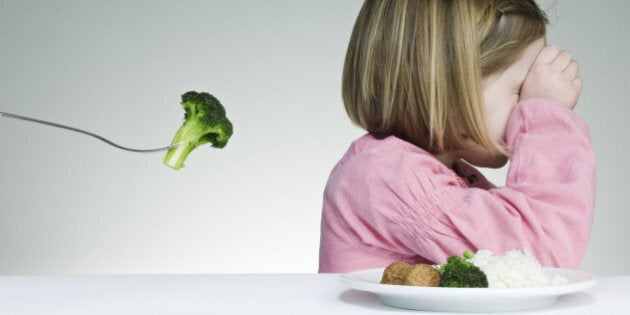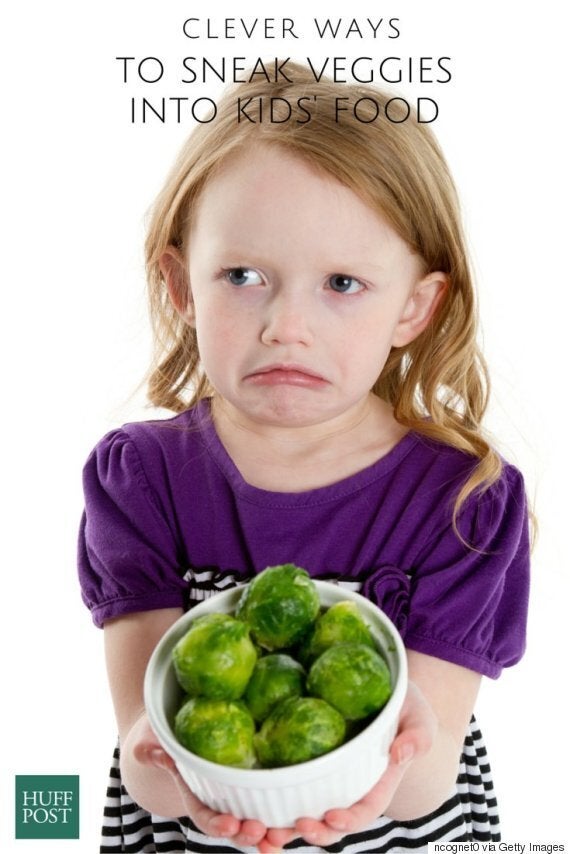 "NO! I DON'T WANT TO EAT THE BROCCOLI."
Nearly every parent has had this struggle and over time it's probably got you feeling angry and deflated. As much as it may seem a futile task, getting your kids to eat their veggies is possible (and very important).
"Kids are laying down the foundation for a healthy life as an adult, so it's incredibly important they get all those vitamins and minerals that you only get from vegetables," accredited practising dietician Caroline Trickey told The Huffington Post Australia.
Unfortunately, kids just aren't eating enough veggies. In 2014-15, just 5.4 percent of all children aged 2-18 met the guidelines for recommended daily serves of vegetables. Only one in 20 children met both guidelines for fruit and vegetable intake.
High vegetable intake in early life can lead to a decreased risk of a range of health issues, including cancer, cardiovascular disease and diabetes.
But how do we get our stubborn kids to eat these important nutritious foods to fuel their days and their future?
According to Trickey, mostly it's being open and encouraging -- but also about smartly tricking them, too.
"Try to make it interesting and fun -- get them involved in the process," Trickey said.
"Maybe grow a veggie patch or take your kids to their grandparents if they have a garden," Trickey said. "Just getting the kids in the garden to explain what we're doing will encourage them to eat the vegetables."
Taking the kids to the fruit and vegetable shop (not the lolly-filled supermarket) is another way to help encourage children to eat veggies they haven't eaten before.
"You can go in and show them all the pretty colours and talk about them," Trickey said. "Instead of saying, 'How about we try carrots?' you could say, 'How about we try orange foods' or ask, 'Have you tried orange foods before?'"
Be persistent (but gentle)
"A lot of parents have this misconception that if their kid doesn't like broccoli they're not going to eat any other vegetables," Trickey said.
"There will be something that your kid eats -- whether it's raw carrot sticks or cherry tomatoes -- so put that on the plate with a very small amount of another vegetable," Trickey said. "If they don't want it say, 'just take one bite and if you don't want to take any more that's fine, but just take one bite'."
"Never give up on getting them to try things, because taste buds do change as you get older (and children's tastes can change as quickly as the weather)."
"When we get upset we all start to feel it in our stomach, so if you get a kid upset and you're trying to get them to eat something, they are going to feel that anxiety in their stomach and that's going to make them feel quite uncomfortable -- and there's no way you're going to get them to eat," Trickey said.
"Don't yell at them -- just talk to them in a nice, encouraging voice."
Often the reason why children push back is from the reaction they get from the parents.
"For kids any attention is attention, whether it's good or bad, whether they're being praised or in trouble -- especially when they haven't seen mum and dad all day," Trickey said.
"Many parents tell me, 'My kids won't eat vegetables' and I ask them, 'Do you eat them?'" Trickey said.
"How are you going to get a kid to eat vegetables if you don't?"
"Kids learn from their parents so if they're not exampling, kids won't eat them."
Children's hesitation to be wary of vegetables may also link back to Palaeolithic instincts, according to Trickey.
"When you look at nature and how we have managed to survive over the years, we are actually built to be careful of food we try," Trickey said. "If you saw something bright on a bush, you would be careful because once upon a time it might have killed us.
"We still have these innate abilities to be really, really careful of foods we don't quite know about -- this is another time where it's important for parents to be exampling to assure their kids that these vegetables are okay."
"Don't give them steamed vegetables on the plate with nothing on them," Trickey said.
Instead, find vegetables they do like and use them in your dinners with lots of flavour.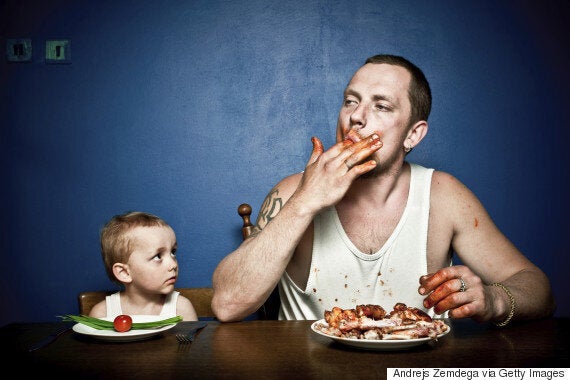 Kids learn by imitating, so show your kids how you eat vegetables.
Try these clever tips to sneak veggies into these popular dishes:
"Some kids will still pick out grated vegetables from pasta sauce, so if you do have a kid who's really fussy like that, then puree the vegetables because it just becomes part of the sauce," Trickey told HuffPost Australia.
When introducing pureed veggies, Trickey recommends starting small.
"Start with a small amount of vegetables -- maybe a quarter of a cup of pureed vegetables -- and then slowly gradually increase the amount," Trickey said. "Usually kids can't tell that small difference.
"Zucchini is great to sneak or hide in food because it doesn't really have a taste. It's not bitter like broccoli -- if you try to puree broccoli your kids will be more likely to taste it."
"Again, lasagna is another great one to add pureed vegetables in as part of the sauce," Trickey said.
"You could also try raw zucchini slices instead of pasta sheets."
"Blended soups are really good," Trickey said. "But be wary -- if your kid doesn't eat pumpkins and the orange soup you make is made from carrots, they're probably going to associate it with pumpkins and not eat it."
Soup may also be a winner by adding interesting extra elements.
"Sometimes kids will eat soup that has pasta in it, so you could add zucchini noodles with the pasta."
When it comes to adding vegetables in casseroles, Trickey recommends using the pureed veggies trick.
"If you puree the vegetables and find that it's too watery, then add in some red lentils to thicken it up," Trickey said. "That way you're getting more vitamins, minerals and fibre."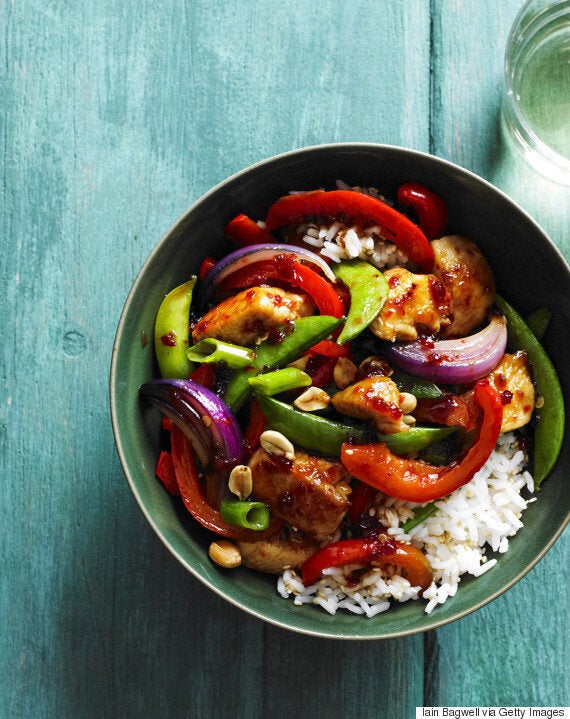 The key to getting kids to eat veggies is making sure they are packed with flavour.
Although this one is a bit tricky, Trickey has a great tip.
"I have parents who roll vegetables in dukkah seasoning and roast them like that," Trickey said.
"Kids will love them, especially carrots -- carrots rolled in dukkah are delicious."
"You could make homemade hamburgers and grate some vegetables into them and serve that with salad," Trickey said.
"Again, have some vegetables that the kids will eat. It might be that they like carrots, so grate zucchini into the burgers and have carrots on the side."
"It's funny, in my experience, about half of fussy kids that don't eat vegetables will eat stir fry," Trickey said.
"If you think about stir fry, it's usually got some pretty powerful flavours in the sauce. If you have vegetables with a tasty sauce on them, they don't taste like vegetables any more -- they taste like really yummy teriyaki sauce."
"If making it at home, limit the serving size and serve a salad on the side -- or you could make veggie fritters in place of some of the chips," Trickey said.
"If this is difficult, just don't serve it very often."
"This is easy -- serve tacos with lettuce, grated carrot, tomato, cucumber slices and make it fun," Trickey said. "Or make wraps filled with meat, beans and salad."
"Most kids like Mexican because you get to use your hands rather than knives and forks."
"Kids tend to like frittata, even if it is full of veggies," Trickey said.
"Depending on the age of the kids, making mini frittatas are a great idea as they are an easy-to-eat finger food -- I roast my veggies first so they are really tasty (think roast pumpkin, roasted capsicum), or you could try grating or dicing them small and cover with cheese on top so they can't see the veggies."