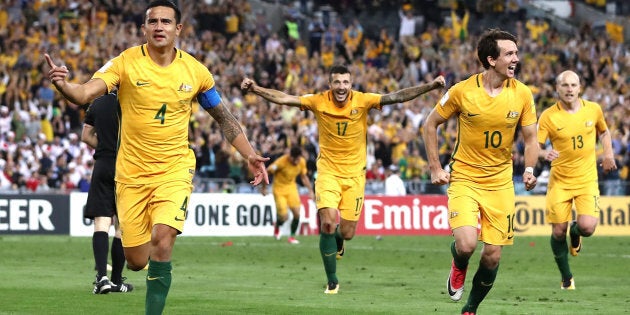 Who else but Tim Cahill to keep the Socceroos' FIFA World Cup hopes alive?
Australia have beaten Syria 2-1 in the most frustrating, nerve-wracking second-leg qualifying match against Syria in Sydney on Tuesday night.
The message for this match was always clear -- win or draw and Australia's hopes of heading to Russia in 2018 stayed alive. Losing simply was not an option for Australia if it wanted to get one step closer to playing on the biggest stage of international football.
But it didn't take long for the Syrian opposition to take the lead and pile the pressure on the Socceroos.
An early through ball that completely tore apart Australia's defensive line and landed at the feet of Syrian striker Omar Al Somah resulted in a goal flying past goalkeeper Mat Ryan and the Socceroos were behind 1-0.
Before the match had even started, Australia's coach Ange Postecoglou received an uproar of criticism online for his decision to sideline key striker Aaron Mooy -- with many saying that the guts of the Socceroos' midfield and defense line-up simply wasn't strong enough without him, and Al Somah's goal was an exact testament to that.
Despite that, after just 11 minutes and an unfortunately early injury to winger Brad Smith, Postecoglou was forced to bring Mooy on as a substitute and the change to Australia's attack was instantly noticeable.
So noticeable, in fact, that the Socceroos' midfield -- now controlled by Mooy -- linked up two minutes later with the only person Australia has consistently counted on throughout its past three World Cup qualifying stages, Tim Cahill, to score the team's second goal and save the day.
And as it always seems to have been, a high ball from winger Mathew Leckie came straight off Cahill's famous head and right into the back of the next. 1-1 -- scores were back to equal and the game was back on.
From there, the pace of the match eased up just a little bit with moments of strength coming from both sides. And while that sounds positive, Australia still needed to step up the intensity to ensure it progresses with certainty.
Following a draw in the first-leg match on Thursday, the 'away goals' rule of international football meant that a 1-1 draw result on Tuesday night would have seen Australia forced to play extra time and face the possibility of a penalty shootout to determine whether the Socceroos got closer to playing at the 2018 Russia World Cup.
At half-time the equation remained the same, however, with Australia and Syria still tied at one goal each and a very, very important 45 minutes of football still to come.
Following the break, with less than half-an-hour left on the clock the nerves from both sides appeared to be heightening as shot after shot towards each team's goal was either blocked or off target and the scores remained level.
Syria opted to defending with a high back-line to avoid any danger from a Tim Cahill breakaway run while Australia kept attacking with opportunities coming from all angles made by Mooy, Leckie and Tom Rogic.
If there was one appropriate word to sum up the nature of the game heading into the final 20 minutes -- it would have been 'stalemate'.
After the full 90 minutes, the match ended drawn with a goal for each side, 2-2 on aggregate if you take into account last week's match, and the Socceroos were headed to extra time to seal the final result.
This is about as nerve-wracking as international football gets and the Australians stepped their intensity up a notch once they returned to the pitch, making sure the Syrians were always under pressure.
Ultimately, that led to Mahmoud Al-Mawas receiving a second yellow card, resulting in a red card, for a late tackle on Robbie Kruse in the 94th minute.
That left the Socceroos' full team up against 10 Syrian opposition players for the remainder of the half-an-hour of extra time. And even then, Australia were unable to capitalise with a winning goal, leaving the match up to the final 15 minutes of regular play with a penalty shootout looming.
Then in the 109th minute -- as if he had it planned out all match -- Cahill jumped onto a perfectly picked cross from Kruse to knock the Socceroos' second goal for the night into the back of the Syrian net.
And yep, you guessed it -- it came off of his head.
That was also the Australian veteran player's 50th goal for his country, making it all the sweeter as Socceroos fans all around the country sat back and breathed a sigh of relief -- victory was in sight.
Even a last-minute Syrian free-kick, which came as close to ending Australia's elation as bouncing off Mat Ryan's goalpost, couldn't stop the Socceroos surge and that was it -- the final whistle blew and Australia's chances of heading to Russia remain alive.
Australia now moves onto an intercontinental playoff match against either the United States, Panama or Honduras from the Confederation of North, Central American and Caribbean Association Football (CONCACAF) -- and the result of a two-match home and away series will determine whether the Socceroos will play in Russia.
But for now, it's all about celebrating. We're still in the mix.