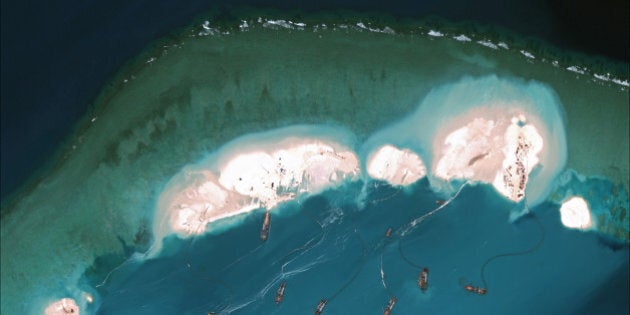 The artificial creation of seven atolls in the South China sea has led to an almost 30 percent reduction in surrounding coral reef areas, a new study shows.
Researchers from the University of Hawaii have used remote sensing data to quantify reef destruction and land creation in seven atolls in the Spratly Islands. It shows the area has effectively lost ~11.6 km2 (26.9 percent) of their reef area for a gain of ~10.7 km2 of land from February 2014 to May 2015.
The study also shows that dredging has been a common practice among countries in the region, and calls for urgent international partnerships for the conservation of this disputed territory before further reclamation and destruction of atolls in the region.
"Many of those reefs are probably doomed," study leader Camilo Mora told The Huffington Post Australia.
"The reason we are making the point though is we have hundreds of more atolls there and we need to prevent those atolls from being destroyed."
The coral reefs of offshore distant atolls have historically been "protected" from direct human stressors.
The reefs are also home to a number of species and they provide food and protection to many coastal populations.
Coral reef dredging is common practice across the globe, and Mora said previous studies of the impact of reef dredging have found that it can lead to near-permanent damage to the reef and its surrounding ecosystems, and result in local species extinctions.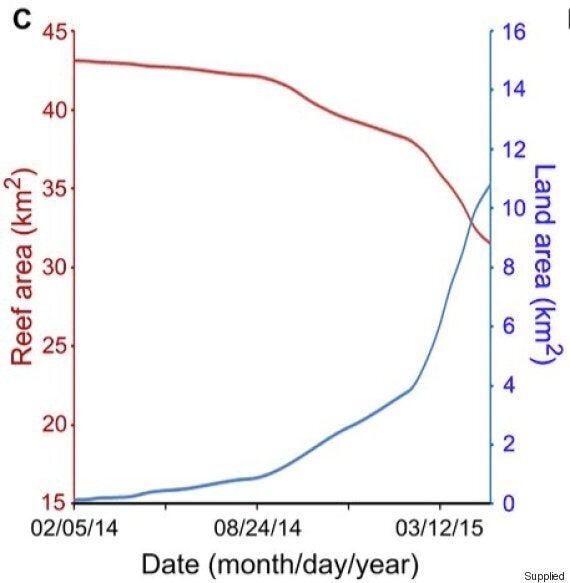 Reclamation leads to gains of land in return for losses of coral reefs.
Over 6,500 marine species are recorded for these atolls, including some 571 reef coral species, more than half of the world's known species of reef-building corals.
The article, published in the Open Access journal PLOS Biology, says the reefs are being degraded by "suction dredging", where materials are cut and sucked from the seafloor and pumped over land.
This can cause runoff from reclaimed land, which generates large clouds of suspended sediment that can lead to coral mortality by "overwhelming the corals' capacity to remove sediments and leave corals susceptible to lesions and diseases".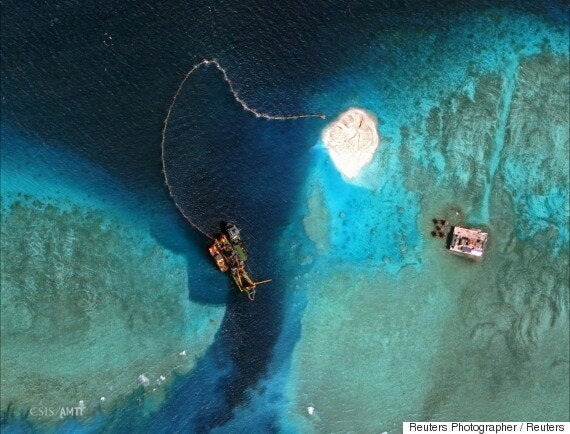 A dredger operates at the southern entrance to the Mischief Reef February 1, 2015
It's worse for the fish: the highly abrasive coralline sands in flowing water can scour away living tissue on species and bury many organisms beyond their recovery limits.
"Dredging is one of the craziest things for coral reefs," Mora said.
"First of all you are destroying it, you are hammering the coral reefs. Indirectly you are disturbing all of these sediments.
"All of these species just get covered by these sediments and they just get buried."
Further, the sediment that settles is not equipped to regrow coral, meaning it won't replenish.
"When you bring your understanding of the ecology you realise this isn't very smart to do. It will be a never ending process," Mora said.
"We have destroyed the foundations of those islands… it is going to require constant dredging to keep those things afloat."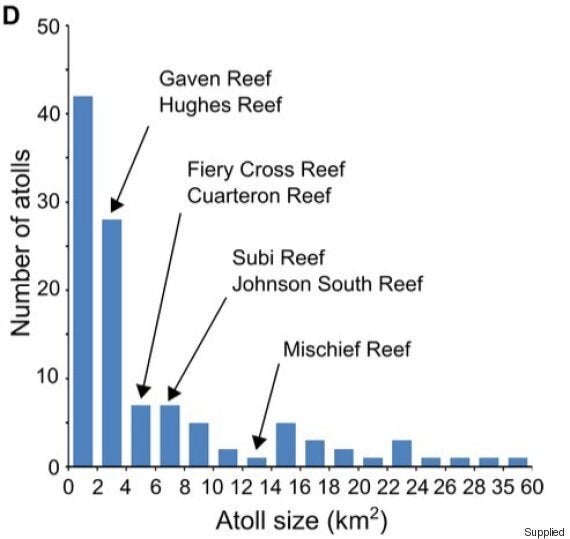 The Spratly Islands, South China Sea, are rich in atolls with similar sizes and characteristics to those already reclaimed
The authors recommend looking to the formation of a multinational marine protected area -- not unlike the Antarctica Protected Areas -- as a positive example of an ecologically important region saddled with multiple territorial claims.
"Countries bordering the South China Sea need to realise that the value of the Spratly Islands as a spawning ground for the same fish that support the lives and livelihoods of their citizens -- a source of larvae to replenish harvested fish populations throughout the region", said co-author John MacManus in a statement.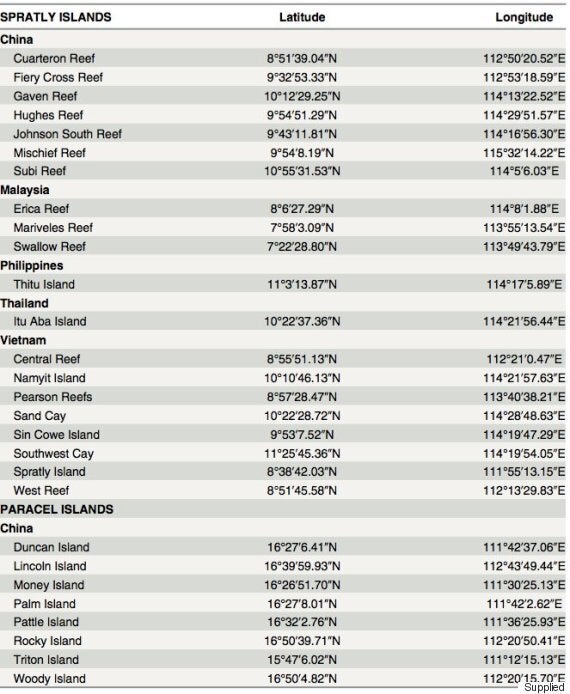 List of reclaimed atolls in the Spratly Islands and the Parcel Islands (note: categorisations by country do not imply ownership)
Mora told HuffPost Australia the Antarctica Protected Areas sets a precedent.
"I think what we need to do is ask humanity to stop having a blind eye to many of these issues. This is a jewel," he said.
"These coral reefs are jewels that are being destroyed for the selfishness of one or two countries."