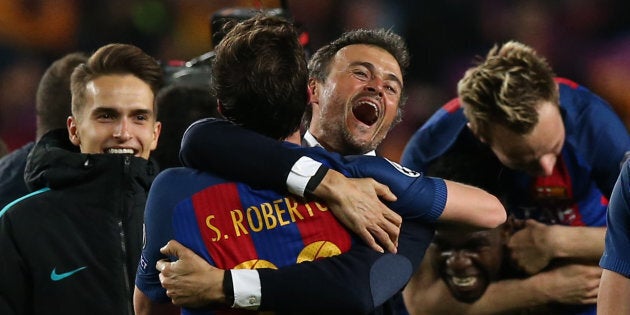 The world is going nuts over Barcelona's 6-1 win in its UEFA Champions League quarter final against Paris St Germain, completing a seemingly impossible comeback -- and why not?
Barcelona were 4-0 down after the first leg, and NOBODY comes back from that. Well, almost nobody. No team in club football -- and quite possibly no team in the history of club football -- has the across-the-ground strike power and class of Barca.
Having Neymar, Messi and Luis Suarez in the Barca line-up is a good start. But in this case it was not a Brazilian, Argentine or Uruguayan who did the damage, but fittingly at Barca's home ground, a Spaniard in the form of Sergi Roberto, who drilled home the winner deep in extra time.
Barca won 6-5 on aggregate. Here's the view from the stands.
And here's the thing you knew was coming -- a Spanish commentator having an audiogasm.
And the next thing you knew was coming -- the goal set to the Titanic music.
Barcelona's heart will go on to the quarter finals of Europe's premier club competition. It is not yet known who they'll face.
ALSO ON HUFFPOST AUSTRALIA