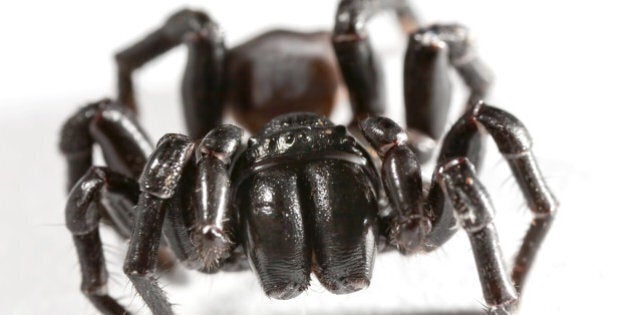 When police turned up at the door they found no blood and no victim -- rather, it was a man living alone doing the screaming and his assailant was simply a "big spider" he was threatening to kill.
Since Harbourside Local Area Command -- which polices the area -- posted a description of the encounter, it's gone viral.
First picked up by local media, the tale of one man's arachnophobic woe has been covered by BBC News, CNN, and Buzzfeed.
The man who crafted the post, Inspector Dean Lindley, has run the Harbourside LAC Facebook page for the last three years. He said enquiries had come flooding in ever since the spider story got into the media.
"It's got a life of its own now, it's been quite funny to watch," he told The Huffington Post Australia.
The Facebook page was born in 2011, when NSW Police kicked off Operation Eyewatch, an initiative for various police commands to use social media for community engagement.
"A lot [of commands] put only strictly crime on there. We would like to think we've taken it to the next level," Lindley said.
"Being as ugly as I am I need a sense of humour, so I also put on local crime stories, the more interesting or funny ones."
A man wielding a gun was just a walk in the park for Harbourside.
And police saw the bright side of this drug-bust discovery.
It also includes a bit of bant in the comments section of posted statuses, as well as the odd friendly sledge to the NSW Police's national counterpart, the Australian Federal Police.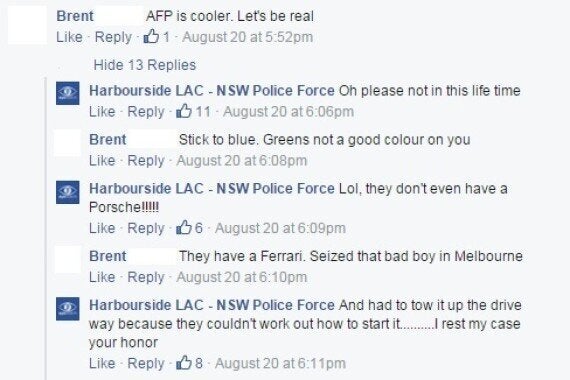 Inspector Lindley said including humour in his social media uploads was a useful way to engage with a wider range of the community.
"If you try and make it a bit humorous, more people will read it. If you attach funny stuff to serious stuff, they're more likely to engage," he told HuffPost Australia.
And it's not the first brush with social media fame for Harbourside. In 2012, the LAC were loaned a Porsche Panamera from the local dealership. The resulting interest worldwide saw articles and social media posts relating to the Porsche receive 28 million hits, Lindley said.
"We've had six Porsches over the past three years. That was our first big foray into social media, we had inquiries coming from every continent," Inspector Lindley told HuffPost Australia.
But it's not all viral hits and humour. The page also serves a vital crime-fighting function.
"It is very serious stuff that we do. We try and add a humorous tone to some of the stuff, but not all of it. We've had great feedback from the community, our local people and our local media love it," Inspector Lindley said.
He said a number of posts made on the page had led to tip-offs which had put people behind bars.
"We solve crime out of it, it gets our message out, and it's a bit of fun as well."