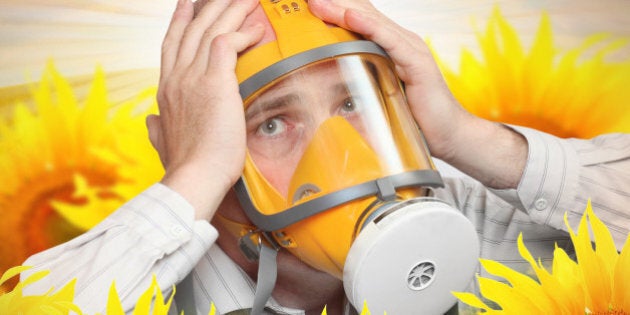 Those of you who decry the Bush Capital as boring clearly haven't been here in spring. Each September our circa-1950s concrete constructions fade into insignificance as blossoms and bulbs take centre stage.
Coincidentally, this marks the start of one of Canberra's most exciting adventure sport seasons. Spring Survivor -- an endurance event where normally sane citizens pit themselves against nature in a bid to beat the dreaded Hay Fever.
What we lack in terms of the reality show Survivor's exotic locations -- Lake Burley Griffin is no Bora Bora -- we more than make up for in terms of hidden dangers. Specifically, our pollen-count. And our ingenuity in beating the annual assault on our senses is unsurpassed.
My fellow Australians, stop lampooning us and learn...
Canberrans are a cut above when it comes to having a signature cocktail. An antihistamine cocktail. After your first spring here you will have figured out which medication, what dose, how often and where the closest pharmacy is at any given time so you can rock in there and order your hit. And unlike a real cocktail, it doesn't have to be midday to be acceptable to consume it.
An alternate approach is adopting some kind of full-body coverage for the duration of Spring to keep those pesky allergens away. Long-sleeved shirt and surgical mask perhaps? Or my personal favourite, 'The Glad Wrap Wrap'. If you want to truly embrace the festive feel of spring go to Costco and buy an industrial size roll of the stuff.
Give it to your friends and let them dance around you Maypole-style, wrapping you in your own little pollen-proof bubble. Figure out how to make breathing holes (you might want to give this job to a smart friend) and then don some kind of highly attractive air-filter apparatus over the top. Totally normal. This ensemble has the added benefit of stopping you from rubbing your eyes. Because you can't.
You'll also need to alter your mode and patterns of movement for a few weeks, and not just to dodge the nesting magpies. If you are a lover of the great outdoors -- perhaps a cyclist or a runner -- you'll need to stop enjoying that. The car is the way to go, my friends. Particularly with the air on recycle. Now is not the time to test your pollen filter. Running is acceptable only between car, office and home as you cover your face with a sleeve or hold your breath to prevent breathing in all those allergens.
Forget about contact lenses. Embrace the specs. Your eyes will be watering so badly you won't want to put anything near them anyway. They will be liquid pools. But sadly not in a literary hero or heroine kind of way.
Alternative remedies -- there comes a point when even the most hardened will attempt them all. Probably at once. Arguments around the water cooler about placebo effects will cease as you desperately seek relief from the torture that is itchy, sneezy, watery everything. Pour salt-water through your nostrils? Sure, why not.
If the above tips fail, you'll need to call in an expert to get you through. That's right, folks. Head off to the GP to get you off the bench for spring. If you have the misfortune to be asthmatic as well as allergic, your diligent doctor might query your lung capacity and ask how you feel about hospital. In my experience, 'Less enthusiastic than I feel about the pub,' is not the correct answer. 'I promise to take everything you have given me and rest,' is.
The good news though is after a week or so of hard-core treatment, or in October, things will look up.
Right, with all that sorted I'm off to Floriade to bury my face in some flowers.