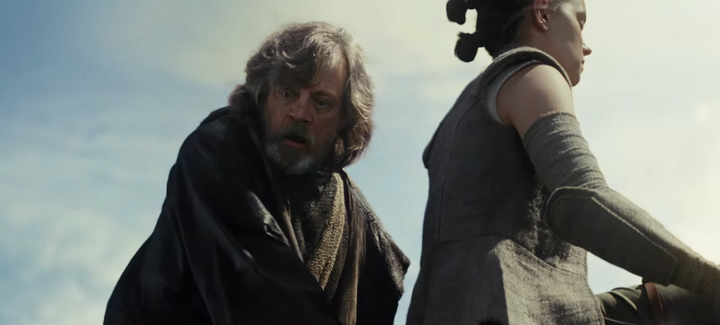 Warning! "Star Wars: The Last Jedi" spoilers below.
He started as a starry-eyed kid who just wanted to go to Tosche Station to pick up some power converters. Now, 41 years later, Luke Skywalker (Mark Hamill) has leveled up to legend status.
In "Star Wars: The Last Jedi," Skywalker heroically casts some sort of Force-fueled astral projection to stall Kylo Ren (Adam Driver), affording the rebels a last-minute escape from a planet called Crait.
Skywalker, whose body was actually back on another planet called Ahch-To during his entire battle with Ren, collapses afterward, looks off into the distance at two different suns and disappears, leaving behind his Jedi robe.
And we're all like ...
VFX Supervisor Ben Morris described the fatal "Last Jedi" shot ― with that memorable sunset ― as mostly real, though he said the filmmakers added a second sun in post-production. The two suns serve as a callback to the pair of setting stars Luke sees early on in "A New Hope."
Ultimately, Luke went out the same way he came in.