The Dark Side tends to get a pretty bad wrap in in the Star Wars series. You just have to look at the language. Death Star. Storm Troopers. Dark Side.
Even made-up words like Darth and Sith don't sound too inviting. "Hey, so, Darth Vader's dropping by the party a bit later on. Cool? He's a solid guy, honest." Nope. Doesn't work.
But this amazing series of pictures, 27, in all, show a different side to the darkness. Storm Troopers, working together, to build a Christmas tree. And they pulled it off, too, the little ragamuffins. Darth Vader even helped out!
Kyle Shearrer, a high school senior in Missouri, and his father spent the best couple of hours of their lives putting together a montage of Storm Trooper figurines building a tree. If you have a better suggestion for how to prepare for the most wonderful time of the year, we'd like to hear it.
Naturally, these pictures went viral. Shearrer, 18, told The Huffington Post Australia the idea was really as simple as it looks.
"We did it because we had the figures and it was Christmas time, why not right?!" he said.
At time of writing, more than 32,000 people had liked his original post, which received 155,000 shares. Shearrer reports that in total, more than 700,000 have shared what HuffPost Australia will dub Star Wars: The Christmas Spirit Awakens.
"The response has been awesome," Shearrer said. "Dad has spent almost all day just reading the comments and laughing, I wore out my phone battery in about an hour today at school just looking at stuff."
There's more than meets the eye, too. The little guys building the tree are the focal point, sure, but there are some fascinating sub-plots unfolding in the background of many frames.
"When we were trying to figure out what to have the guys do in the background we had a bunch of fun ideas, mainly the fork in the electric socket and ensuing tackling of the forkie by a supervisor, as well as a guy taking a smoke break in the background and getting reprimanded," Shearrer told HuffPost Australia.
"Those were all jokes that we did not really draw attention too and both loved how everyone immediately understood what was going on and found it as funny as we did."
And when the Storm Troopers couldn't raise the final piece of the tree? The Force, of course.
All photos supplied via Facebook with the permission of Kyle Shearrer.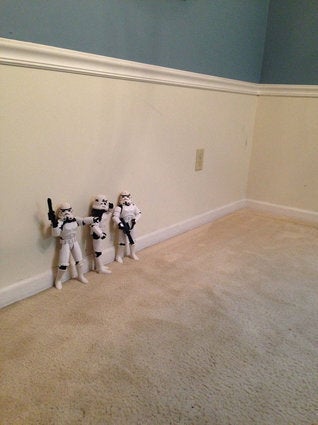 Storm Trooper Christmas Tree