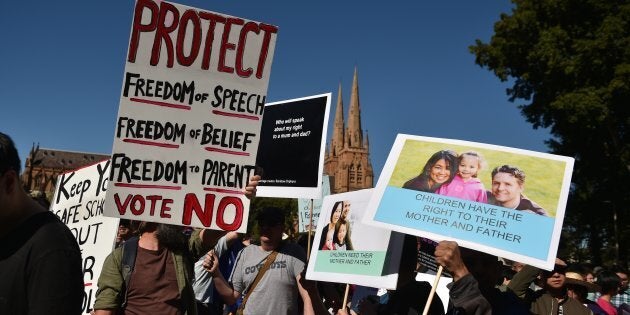 Supporters on both sides of the marriage equality debate are expected to face off in Sydney's CBD on Saturday, with a 'Straight Lives Matter' protest and same sex marriage counter-rally planned for the same time and location.
Organised by far right conservative group Party For Freedom, who were also responsible for a 10-year Cronulla Riots reunion in 2015, the 'Vote No' protest is expected to occur at Green Park in Darlinghurst.
While the group has typically been associated with anti-Muslim protests, this rally has been described as an opportunity to "give supporters of traditional marriage an opportunity to band together in solidarity and speak out against the proposed legalization of same sex marriage."
"On Saturday 23rd September 2017, Party for Freedom will be holding a 'Straight Lives Matter: Say 'No' to LGBT Marriage' rally in the heart of rainbow territory... calling on our fellow Australians to vote 'no' in the upcoming postal vote on same sex marriage," a Facebook event for the planned rally said.
"There are many Australians who feel excluded from the current debate on same sex marriage due to the militant group think tactics used by homosexual marriage activists in intimidating and shaming those who do not support the latest cultural Marxism fad to redefine traditional marriage.
"Gay activists, left wing politicians including Labor, Liberal and Green sitting members of Federal Parliament and mainstream media know that they will lose the upcoming postal vote on same sex marriage, and that is why the purple haired rainbow collective is virulently opposed to the process."
In response to the planned event, left-wing activist group Anti-Fascist Action Sydney has also planned a counter demonstration to confront the leader of the Party For Freedom, Nick Folkes.
"Homophobic neo-fascists 'Party For Freedom' are attempting to organise and intimidate the Queer community in Darlinghurst," a separate Facebook event for the counter-rally said.
"Come and show Folkesy and his merry band of misfits that his hate isn't welcome."
A spokesperson for the NSW Police told HuffPost Australia on Tuesday that authorities are aware of the planned demonstrations and confirmed a police presence will be in attendance to deal with anti-social behaviour.
"Police are aware of a demonstration planned to take place in Darlinghurst at the weekend and will have a police presence in place including gay and lesbian liaison officers," the spokesperson said.
"The NSW Police Force respects the public's right to protest and is committed to working with all groups with regard to public assemblies to ensure they are contacted lawfully and peacefully.
"Anyone who breaks the law or who engages in anti-social behaviour will be dealt with accordingly."
That included Deputy Prime Minister Barnaby Joyce saying he wants 'Yes' campaigners to get out of his face, and National's senator Matt Canavan telling everyone worried about the tone of the debate they were "delicate little flowers" and ought to "grow a spine".