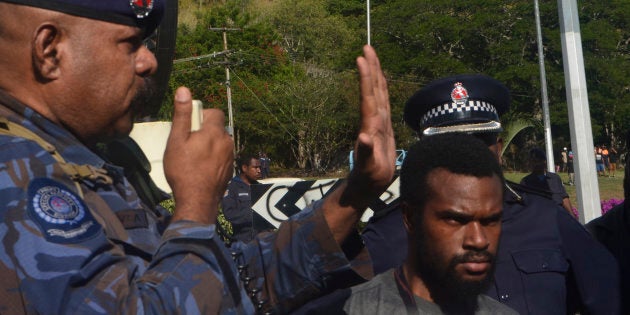 Papua New Guinea's government has set up a commission of inquiry to campus violence throughout the nation, as police question three people over the knifing death of a student on the weekend.
PNG's second largest city.
The weekend's violence followed weeks of tension between students and authorities amid calls for Prime Minister Peter O'Neill to stand down to answer corruption allegations.
PNG's National Executive Council, a cabinet-like body, has appointed retired judge Justice Warwick Andrew to chair the commission, the Port Moresby based Post Courier Newspaper reported.
"We all need answers, right around the country, to understand the factors leading to the escalation of student protests and the acts of violence that we have seen in recent weeks," Prime Minister Peter O'Neill told the newspaper.
"This commission of inquiry will be independent and thorough and seek to get to the bottom of this issues identified in its terms of reference."
Cabinet also approved a 30-day dusk to dawn curfew at the University of Papua New Guinea in Port Moresby and the University of Technology in Lae.
In an earlier statement announcing a 7pm to 6am curfew at campuses, O'Neill said it would serve to "also serve to prevent the movement of outside influences on campus."
"There are people who have been coming into the campuses for the sole reason of stirring trouble and this needs to end," he said.
The Post Courier also reports three people have been detained for questioning in relation to the stabbing death of a student at UNITECH on Saturday.
Two weeks ago PNG police opened fire on students rallying in Port Moresby. The students had intended to march to the government district to call for O'Neill's resignation.