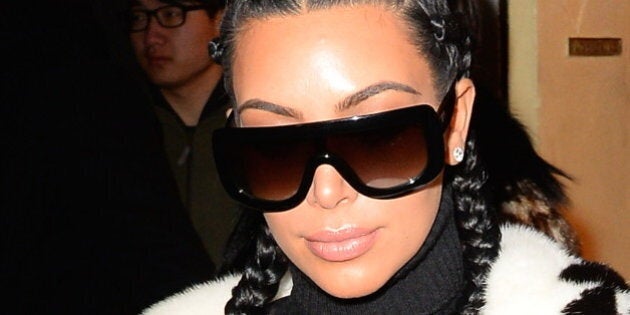 Sunglasses are one of the few fashion items that perform an important task -- they protect your eyes (or your forehead, if you're Alex Perry) from damaging UV rays.
Though employing a pair purely for their functionality would be boring -- after all, they say just as much about your style as your clothes and shoes.
So, what's in store for sunnies this season? and what are we saying goodbye to?
"This season we are seeing less shield-like sunglasses -- sunglasses containing one lens that wraps around your face," Francesca Pezzutto, Director of Product at Sunglass Hut told The Huffington Post Australia.
"The trend that has replaced this is the round shape. We are also seeing the classic aviator and clubmaster style increase in popularity."
The 'Clubmaster' style is on the rise
"The first half of 2016 is also all about floral and pastel frames for women. think lush patterns and delicate ornamentals. We will be seeing soft two tone colour and pattern mixes, lightly tinted, smoke coloured or gradient lenses, and delicate embellishments, ornamentals and crystals on frames," Pezzutto said.
"Brands displaying this trend this season include Prada, Dolce & Gabbana, Michael Kors and Vogue Eyewear."
How much embellishment is too much? No such thing, according to Dolce and Gabbana
After an iconic style that never dates?
"The key iconic shape that we are seeing at the moment is 'round' in a variety of brands including Prada, Miu Miu and DKNY -- but the brand where this trend is coming to the forefront is Ray-Ban," Pezzutto said.
"Ray Ban are also revamping the original Gatsby shape from the 80s for this season, redefining the distinctive highbrow design and retro-appeal of this rounded phantos shape, with modern finishes to bring a classic up to date," Pezzutto said.
The Ray Ban Gatsby shape is back
Pezzutto's top tips for caring for your sunglasses:
Use a microfiber cloth and lens cleaning solution to care for your glasses. This ensures that you are not scratching your sunglasses when you clean them.
Never leave your sunglasses in the car. The heat built up in the car can adversely affect your sunglasses.
Use the case. A case protects the sunglasses and ensures they aren't scratched when in transit.