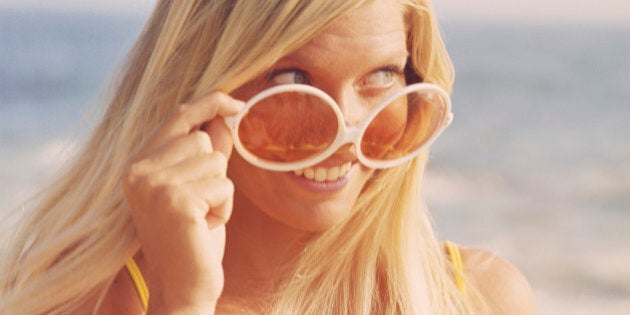 Everyone loves a good bargain. And what better bargain than the cheap-as-chips sunglasses you can pick up from market stalls, second hand shops or (our personal favourite) from certain overseas holiday destinations? (Examples of which may or may not rhyme with Schmali or Pieland.)
While it's all well and good to indulge in your fashion whims from time to time -- not to mention pick up a pair of star-rimmed, pink-lensed shades you wouldn't ordinarily fork out for -- skimping on your sunnies isn't the best idea when it comes to eye health. In fact, that sweet pair of "wayfarers" you bought on the beach that time are probably doing absolutely nothing when it comes to protecting your eyes.
"Sunglasses are every person's wardrobe staple. They are used to make a fashion statement, mask a big night out and to accessorise an outfit, but very few people understand the importance of wearing sunglasses for eye health," Sunglass Hut senior buyer Alexandra Kessell told The Huffington Post Australia.
"Average UV levels in summer are three times greater than in winter, and in the worst case, at midday, UV damage can be 10 times higher.
"Ocular problems such as cataracts, pterygia, macular degeneration and skin cancer of the eyelids -- and it's worth noting 90 percent of all skin cancers occur above the neck and up to 10 percent of all skin cancers occur on the eyelids -- are caused by prolonged UV exposure, so covering up your peepers with some sexy shades on a daily basis is imperative to keep your eyes in good shape."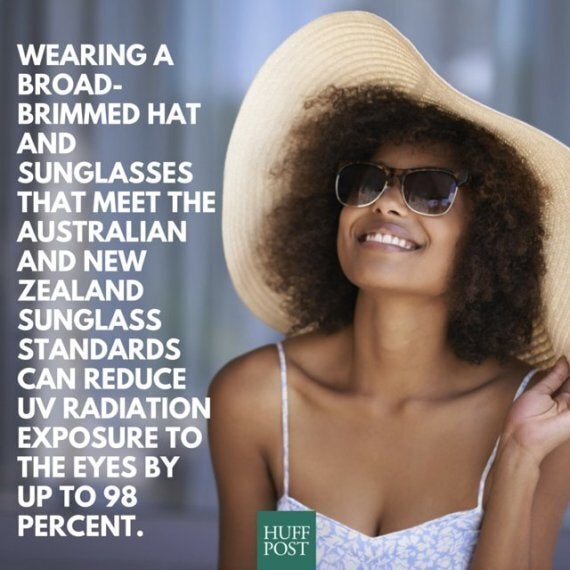 So how do you know if your sunnies have adequate protection? First of all, you can totally ignore whether or not your glasses have dark lenses or not.
"The dark tint on sunglasses has nothing to do with UV protection," Kessell said. "Many fashion frames have dark-tinted lenses that may cut down on glare, but won't provide enough UV protection.
"All sunglasses sold in Australia must be tested and labelled according to the Australian and New Zealand Sunglass Standards, which states sunglasses with a value of three absorb almost all UV radiation. Wearing a broad-brimmed hat and sunglasses that meet the Australian and New Zealand Sunglass Standards can reduce UV radiation exposure to the eyes by up to 98 percent.
"Sunglasses that are bought on the beach, for example, and not through an authorised sunglass retailer... may not meet Australian standards and may be harmful to your eyes as they don't reduce glare."
According to Kessell, in order to minimise glare, your best bet is to get sunglasses with polarised lenses.
"Sunlight can be absorbed or reflected in several different directions," Kessell explained. "Sunlight that is bouncing off horizontal surfaces such as water, land or the hood of a car is usually reflected back in a similar horizontal direction. This reflection produces an agitating source of glare that cannot only create visual discomfort but can also cause a potentially blinding glare.
"Glare has the potential to create a very dangerous situation, especially while driving.
"How polarised lenses work is they contain a laminated filter that allows only vertically oriented light to pass through. This blocks the horizontally oriented light so glare is almost eliminated.
"The benefits of a polarised lens include:
Improved visual comfort
Improved contrast and visual clarity
Reduced eyestrain
True perception of colours
Reduced reflections and eliminates glare."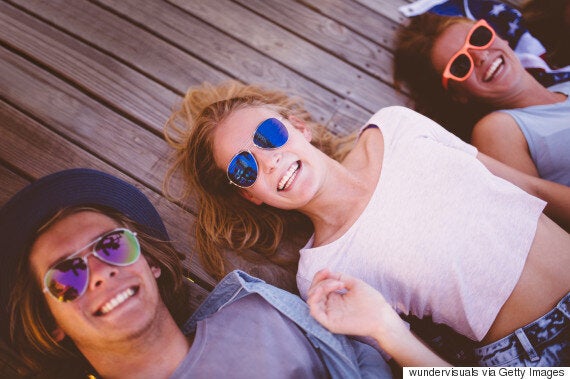 When buying pair of sunnies, make sure to ask if they are polarised.
In terms of how to find out whether glasses are polarised or not, the best thing to do is to ask the sales associate at the store. Otherwise, have a look at the frame.
"For example a Ray-Ban polarised lens has a P next to the Ray-Ban logo on the lens," Kessell pointed out. "Also some sunglasses have it indicated on the left temple of the glasses with 2P or 3P."
If you already own a pair of sunnies and aren't sure whether they are polarised or not, you can try a neat trick involving your computer. (And no, it doesn't involve Google.)
"Look at a computer monitor while wearing the sunglasses," Kessell advised. "Does the monitor's brightness seem to reduce and increase as you tilt your head left and right? If this is the case you are wearing polarised sunglasses.
"Another way to test if your glasses are polarised is if you look into the ocean, a polarised lens should be able to look through the glare on the surface of the water into the ocean."
Finally, for those who might be thinking the onset of autumn means they can put their sunnies away for a while, think again. According to OPSM, UV damage to the eyes can occur even on cloudy or cold days. For more OPSM health facts, and for Kessell's tips on buying the perfect pair of shades, see below.
Eye health facts courtesy of OPSM
UV damage to the eyes can occur even on cloudy or cold days.
85 percent of the OPSM sunglass range can now be fitted with prescription lenses.
90 percent of all skin cancers occur above the neck and up to 10 percent of all skin cancers occur on the eyelids.
UV damage is cumulative and irreversible. It is important to protect children's eyes as early as possible.
The colour or darkness of the lens does not indicate the level of sun protection -- you should always check the label for the EPF (Eye Protection Factor).
Contact lenses and prescription glasses are available with UV coatings. Did you know that UV exposure can lead to ocular problems such as cataracts, pterygia, macular degeneration and skin cancer of the eyelids?
Sun-related eye damage occurs in the early ages of childhood, particularly between the ages of three to 12 years old.
Kessell's tips for buying the perfect pair of sunnies:
Always look for a quality lens that is labelled. All sunglasses in Australia, look for a category 2 or 3 lens that is polarised so that they protect you from the sun.
Always shop at a reputable sunglass retailer like Sunglass Hut where we ensure that all the product is authentic.
Choose a pair of sunglasses that matched your faceshape. Go for a style that is opposite to your faceshape e.g. if you have a rounder face go for a squarer sunglasses. If you have sharper features go for a rounder frame.