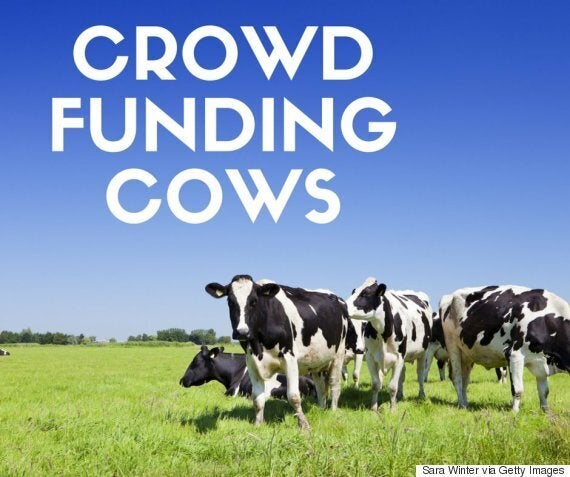 Crowd Carnivore is a new start up founded by Zachary Sequoia and Dan Tarasenko, and it works by people getting together to crowdfund a whole animal that is purchased directly from the farmer, butchered and split and then delivered fresh to your door.
"We were looking to use the power of the crowd to help farmers," Tarasenko told The Huffington Post Australia.
"We originally looked at models such as equity and helping farmers access funds to buy stock and provide a return to the 'crowd' when they sell, then Zak suggested, 'Why don't we just crowdfund a cow?'
"It was perfect. It's a large animal that breaks down nicely into manageable boxes and customers get the provenance of buying direct from a specific farmer."
According to Sequoia and Tarasenko, Crowd Carnivore is a more sustainable way to consume meat and has economical and environmental benefits.
"Crowdfunding the whole animal is economical for the farmer and butcher -- they don't have to worry about what to do with the meat that is not a prime cut steak, which is what everyone wants. The whole animal is already sold and accounted for," Tarasenko said.
"We're minimising food waste and putting more back in the farmer's pocket, educating the consumer on the economical and nutritional benefits, as well as the enhanced flavour from cuts of meat you may not always see in the big two supermarkets," Sequoia told HuffPost Australia.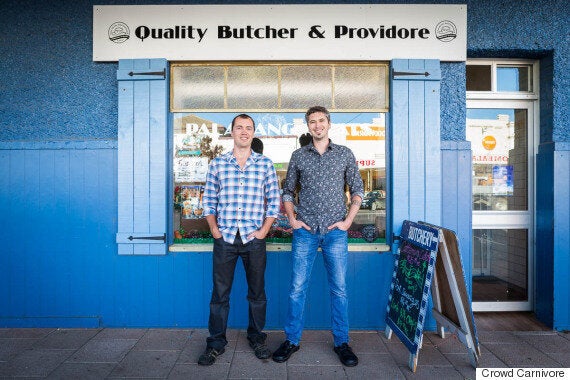 Crowd Carnivore founders, Zachary Sequoia and Dan Tarasenko, aim to create a link between the consumer and the farmer.
Aside from creating less waste, crowdfunding meat also reduces the price for consumers.
"Consumers also get the benefit of participating in a whole animal purchase at a great price, instead of worrying about the storage and logistics of receiving an entire cow, or side of beef," Sequoia said.
Sequoia and Tarasenko also work with farmers to make sure the animals are healthy and happy.
"We thoroughly vet the farmers we bring on board to reward those who are using the best practices possible from an animal welfare, human health and environmental perspective," Sequoia said.
"We work with farmers who are focused on their land, not just their animals, as good pastures and good soil ecology equal happy, healthy animals -- with the added benefit of sequestering carbon, drought-proofing their land and improving year on year. All our farmers must practise regenerative agriculture."
Currently the meats available are grass-fed beef (requires 12 people to crowdfund) and grass-fed lamb (requires four people).
Crowd Carnivore is available in Sydney, Newcastle, Wollongong, Canberra and parts of the far South Coast of New South Wales, with plans to expand to Melbourne.