Video by Tom Compagnoni & Emily Verdouw

The edgy Sydney enclave of Newtown is at risk of being overrun by drunken louts attracted to the suburb for its relaxed liquor laws, with alcohol-related violence on the move from the city to the suburbs.

Since the introduction last year of controversial lockout laws in the Sydney CBD and Kings Cross, violent and drunken crime has exploded in Newtown, more than doubling in some categories while hitting its highest ever levels in others.

The lockout laws, which bar new arrivals from entering licensed premises after 1.30am and mandate last drinks at 3am, came in response to the one-punch deaths of Thomas Kelly and Daniel Christie in alcohol-related incidents.

Bureau of Crime Statistics and Research data covering the year since the lockouts were introduced shows an 80 percent increase in assaults at Newtown licensed venues. At night, liquor offences -- which includes sale or consumption of alcohol in breach of licensing regulations, public drinking, and consuming alcohol in alcohol-free zones -- rocketed 169 percent, while disorderly conduct jumped around 50 percent.

Alcohol-related assault, assault at night, assault on licensed premises, disorderly conduct, and liquor offences for the year to March 2015 all spiked to the highest levels ever recorded by BOCSAR.

The most high-profile of these violent incidents allegedly saw a transgender woman abused and assaulted by a gang of up to five men at a Newtown hotel in June, while anecdotal reports suggest harassment and anti-queer abuse is on the rise.

Several Newtown bars have now taken matters into their own hands, and will soon refuse to serve shots after midnight and close to new patrons at 3am.

Liz Yeo of the Newtown Neighbourhood Centre is spearheading the 'Protecting the Newtown Vibe' campaign, prompted by community concerns after the centre received numerous reports of rising alcohol-fuelled crime.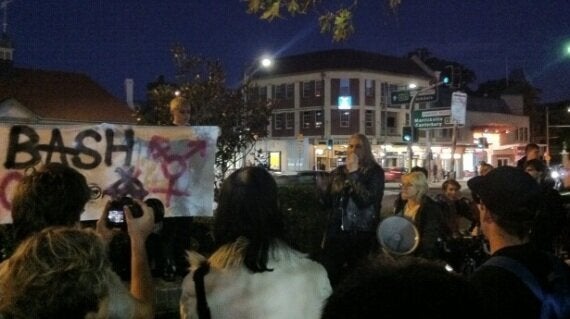 A public meeting held by the 'Protecting the Newtown Vibe' campaign (Fairfax/Kate Aubusson).
"A lot of people in the community are telling us they feel less safe than they used to when walking the streets late at night. We have lots of reports of people being really drunk or out of it, and more abusive," Yeo said.
"For a lot of people, these incidents are not extreme, even though there have been extreme incidents. We're also hearing things like homophobic behaviour, being shoulder charged, the sort of things you might not necessarily go to the police for. It's a general sense of feeling less safe."
The CBD and King's Cross lockout laws are to be reviewed in February 2016, with a spokesman for the Office of Liquor, Gaming & Racing saying the report would "consider factors including impacts on crime statistics as well as impacts upon businesses and their patrons and impacts on community amenity."
An earlier BOCSAR report on the effect of the lockouts, released in April but based on figures to September 2014, stated alcohol-related crime had not migrated from lockout areas to the inner-west or other nearby suburbs – but the latest stats, and anecdotal reports, paint a vastly different picture.
Tim Claydon, chair of the Newtown liquor accord and owner of the Vanguard hotel, said huge increases in visitors had been recorded after the lockouts were introduced. Guided by the accord, almost every Newtown bar will soon implement voluntary Friday and Saturday night measures to address alcohol-related incidents, such as closing to new patrons after 3am, and banning sales of shots and doubles after midnight.
Claydon said the new rules -- to begin in September -- aimed to avert any possible trouble over the coming summer, and attributed the jump in alcohol-related incidents to Newtown's history as a relatively peaceful suburb.
"Definitely a lot more of the late night patrons are coming here [after the CBD lockouts]… and that's the main reason we looked at our lockout," he said.
"There wasn't that many incidents before the lockouts, so while the percentages look alarming, it isn't as bad as it may seem."
Claydon spoke of preserving the "special vibe" of the inner-west -- an ethos also recently championed by the neighbourhood centre, and the state member Jenny Leong. The voluntary lockouts will include bars subscribing to, and displaying to patrons, a code of conduct with points on respecting diversity.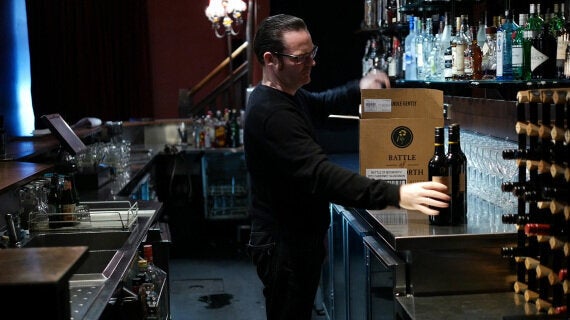 Tim Claydon said Newtown has changed since the lockouts (HuffPost Australia/Tom Compagnoni).
"We didn't want people to think Newtown has this reputation where drunks and craziness happen. That vibrant scene is lost if people are worried about intoxicated people. We want to keep Newtown so people can come watch a movie or a band, eat at a restaurant, go out and dance until 3am and not be intimidated by intoxicated incidents," Claydon said.
"In Newtown, anyone can walk down the street and people don't blink an eye, no matter if you're heavy metal guys to punks or LGBTI - whatever people are, they're accepted and not intimidated. That's something we're proud of, and would hate for that to change."
Leong also nominated the culture of Newtown as a key issue in the debate, but said lockouts were not the answer.
"Anecdotally, there has been concerns in the community for a long time. People feel like there is a changing vibe, but a really strong message is that we don't want to shut Newtown down – we want to keep it open," she said.
"What we need are creative solutions to solve this, not just the law and order approach."
Leong said she supported encouraging buskers, musicians and other late night activities to the area, rather than lockouts.
"When you have that, the feeling on the street is so different to people just moving from one venue to another to get more pissed," she said.
"Locking people out or shutting down venues at a certain time of night isn't going to address the problems we have. Dickheads don't disappear after 3am. People that are going to behave badly when drunk, or in an idiotic manner or have offensive views will do that at any time of the day."
A recent roundtable meeting between the neighbourhood centre, liquor accord, police and other community bodies began planning a path forward to address safety concerns, such as investigating public transport options.
"We want people to come to Newtown, but to respect it and the people that live here," Yeo said.