A crowd estimated to be 15,000 strong has rallied in Sydney to protest the New South Wales government's controversial lockout laws.
Kicking off at 12.30pm on Sunday, the protesters, undeterred by the rain, made their way from Belmore Park (opposite Central Station) to Hyde Park, where a number of speakers and performers have made an appearance.
The laws, which came into effect in February 2014 after a spate in fatal one-punch assaults, dictate no bottle shops sales after 10pm, no shots to be served after midnight, no new guests are allowed to enter venues past at 1.30am and no alcoholic drinks to be served after 3am.
Australian radio host, DJ and music producer, Nina Las Vegas, spoke at the rally on Sunday to highlight the difficulties Australian musicians now face was a result of the laws.
"My career wouldn't exist today without the nightlife we once proudly enjoyed," Las Vegas said.
"Not so long ago Sydney was vibrant... You could find friends with whom you could share the last dance."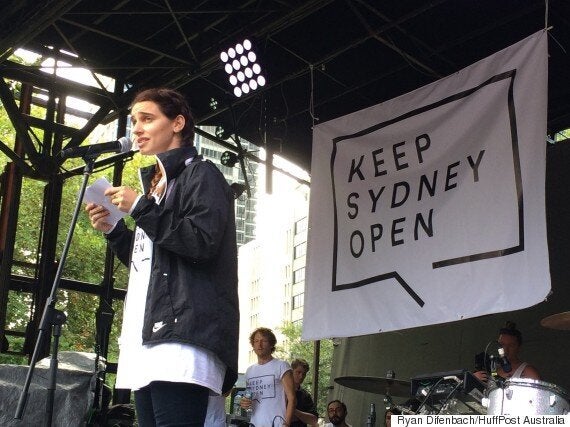 Nina Las Vegas speaks at the Keep Sydney Open rally.
It was a sentiment echoed by protestor Hayley Milano, musician and CEO of Singing Sydney, who stated the lockout laws have made it even more difficult for up and coming talent to find a place to perform.
"I'm passionate about it for many reasons, one of those being the fact I own a singing school," Milano told The Huffington Post Australia.
"What opportunities can I provide to up and coming performers and artists? If venues are suffering, it means less work for us and for our students. The whole community is being impacted. I certainly am, as part of the music industry as well as a small business owner.
Social media outlets such as Twitter have been flooded with messages of support as the hashtag #KeepSydneyOpen goes viral.
By all accounts, the rally has been a far cry from the violence which inspired the laws to begin with.
"It's beautiful. No one is fighting or anything," Milano told HuffPost Australia. "It's really calm.
"There's a very positive feeling to the whole thing, though there are a lot of people asking, 'why are we even here? Why are the casinos exempt but we are not?' It's really unfair, if you think about it."