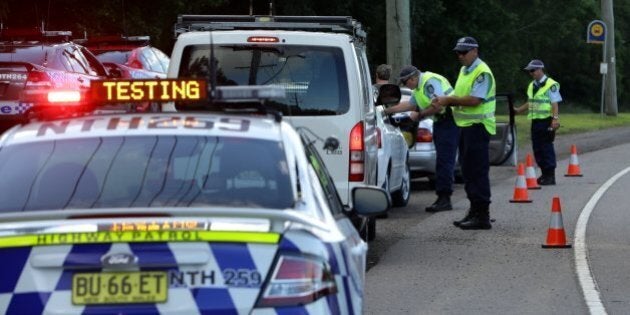 Just five days after Melbourne's controversial Operation Fortitude blitz was scrapped, a British woman was held by Sydney police for 35 minutes in a random stop for the purpose of a visa check.
Samantha and her partner Patrick have been in Australia for two years, working in Sydney on 457 skilled work visas.
On her drive to work through the Sydney suburb of Stanmore on September 2, she said she was stopped by police for a random breath test on Stanmore Road.
The test returned a negative reading, but Patrick said the police officer became concerned when he saw Samantha's UK driver's licence.
"He didn't even ask for the licence, my partner just pulled it out," Patrick told The Huffington Post Australia on the day of the incident.
"The officer saw the licence, and asked her to produce her visa."
Patrick and Samantha had no physical visa information. Patrick said the couple only had electronic visas and that paper visas have not been issued for several years.
"My partner was distressed, she called me up in quite a state," he said.
"I called Immigration, but even they weren't sure what to do. I could hear the officer in the background saying he wouldn't let her go without a visa."
He said his partner was still too upset to speak herself.
"This went on for about half an hour. We literally don't have anything physical to show, except for a reference email. We have him a visa number, but he wanted to see something physical, and that's what this hinges on -- we don't have anything," he said
"The officer wouldn't speak to me or Immigration on the phone... but finally he waved her on. She was in hysterics in the car. We weren't able to produce anything, but he caved in at the end."
A spokeswoman for the Department of Immigration and Border Protection said "police officers are authorised to request identity documents, if they have a reasonable suspicion that the person is an unlawful non-citizen".
But the department also confirmed "an individual visa holder is not obliged to carry documents or proof of their visa status".
Information on the department's website states: "Australian visas are issued and recorded electronically" and makes no mention of physical visa records.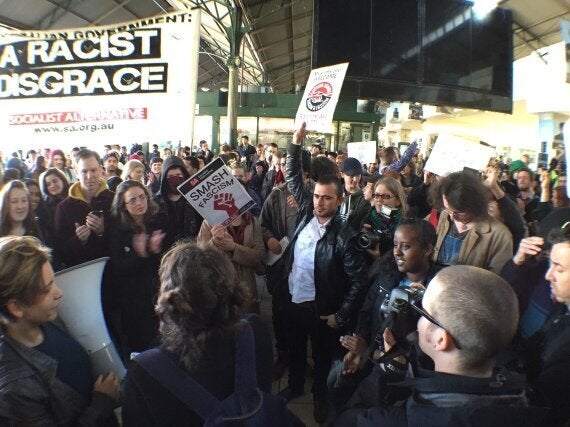 Crowds protest Operation Fortitude in Melbourne on September 28 (Fairfax Media/Joe Armao)
Samantha, a primary school teacher, arrived 90 minutes late to work.
A Roads and Maritime Service spokesman confirmed 457 visa holders can drive in NSW on their overseas licence if the licence "remains current and relevant to the type of vehicle being driven".
A NSW Police spokesman told HuffPost Australia that the officer was within his rights to request visa information.
"As a temporary overseas visiting driver, you must carry your licence with you when driving," he said.
"You have an obligation to prove your overseas visitor status if requested by Police. Visas, letters from employers or educational institutions and statements from consulates or diplomatic offices may be used establish visitor status."
On Monday, Patrick said he and his partner were still shaken and upset about the episode.
"This sort of thing makes you feel insecure and unwelcome," he said.
"We're here on a 457 visa, to fill a skills gap and to give back to Australia, so when someone turns around and holds you on no grounds whatsoever, it's a kick in the teeth. It's not a nice feeling.
* Names have been changed