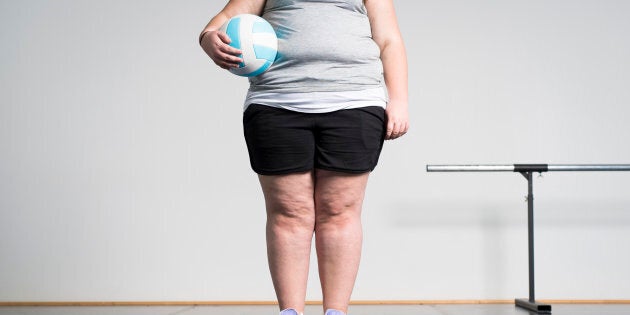 It was the high-five the nurse threw at the doctor that did it.
"She's done it," said Leonie's dietitian, looking up from her results. "She's beaten it."
The excited look on her doctor's face convinced Leonie Oakes her decision to lose weight, three months before, was the right one. The 16 kilograms she lost was the difference between her pre-diabetic status and the high-fives in the patient room.
Leonie wasn't pre-diabetic anymore. She was relieved. At 54, she knew how serious it was, having witnessed her mother's struggle with diabetes and cancer.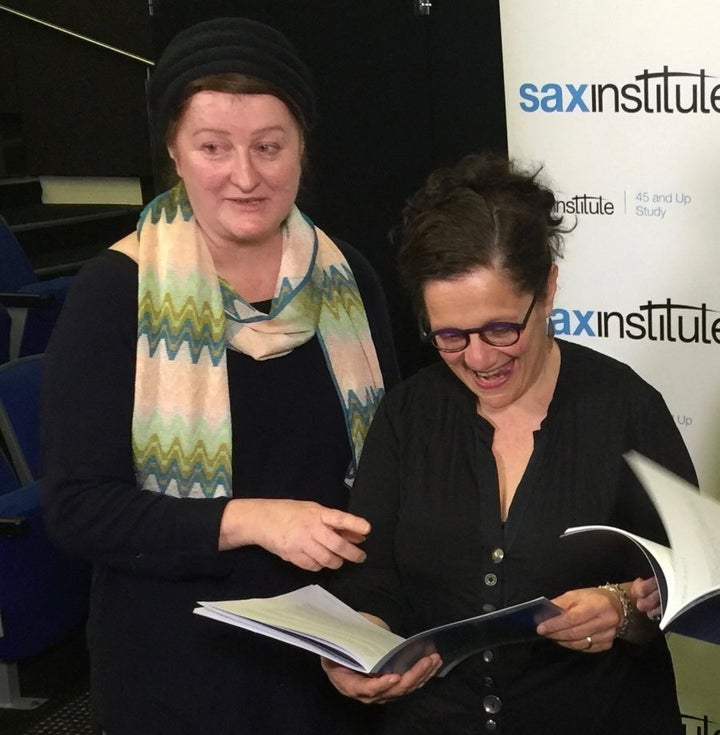 "My family had diabetes, I knew it was there. I kind of knew I had to be fit, I had changed careers, I wanted to look better. It was a social thing," she said.
"But it was when I lost the weight -- it was the nurses and the dietitian, when they said I'd reversed my pre-diabetes and started high giving each other -- I realised what a big deal it was. That has been a fantastic motivator for keeping the weight off."
Being overweight and leading an inactive lifestyle can lead to long term illness such as Type 2 diabetes, among other serious illnesses.
A recent Sax Institute study of 30,000 people participating in its 45 and Up Study, found maintaining a healthy weight is the single most effective way to reduce your risk of Type 2 diabetes, no matter how much you hit the gym.
Australia has a health problem, and a complex one. And there's an equally complex conversation happening around it.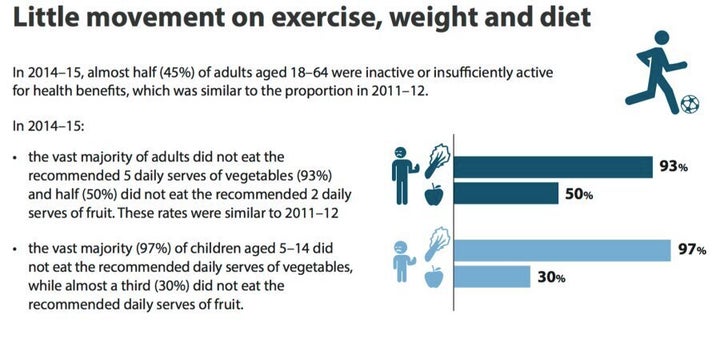 The proportion of overweight or obese adults increased from 56 percent to 63 percent between 1995 and 2014, an average increase in weight of 4.4 kg for both men and women. Of the estimated 11.2 million adults who were overweight or obese in 2014–15, almost half, or 4.9 million, were obese.
But these figures from the Australian Institute of Health and Welfare also show that if Australia had a population of just 100 people, 56 would rate their health as 'excellent', or 'very good' and 29 as 'good'.
This is despite the two-yearly report card also showing 95 out of 100 people do not eat the recommended servings of fruit and vegetables, while just 55 per cent of us do enough physical activity.
There is an obvious disconnect between how we see ourselves and how we are.
It's A Problem That's Also Global
People who are classed as overweight or obese have higher mortality rates, a five-year global study into the relationship between Body-Mass Index (BMI) and mortality has shown.
Carried out across four continents and touted as the first of its kind, the research covered 4 million people in 32 countries, mainly located in Australia/New Zealand, East Asia, Europe and North America.
Professor Rachel Huxley, Curtin University Faculty of Health Sciences, said the research was important as it made variations across major global regions clearer.
She suspects a more sedentary lifestyle, spending less time on your feet while at, or travelling to and from, the office is a primary culprit.
"I don't think it's all down to an increased calorie intake," Prof Huxley said.
"There's pretty good evidence to suggest our calorie intake hasn't increased to match the level of obesity. What I think has been happening is our habitual level of physical activity has reduced over time.
"Now we're far more sedentary, we're sitting down for longer periods of time. If you think about it, it's not uncommon for people to drive to work and then sit down for eight hours. Then they drive home and sit down and watch the TV."
But Simply Identifying The Problem Won't Fix It
The solution really lies in individuals and assuming recommended strategies for losing weight will be followed is a mistake, said Associate Professor Amanda Salis of the University of Sydney's Boden Institute.
Human beings feel happy to the extent that we feel in control of our own destiny and our own lives. People like to have freedom and be in control of what they do.
"The only person who can make the change is the person who is changing, and so the solution really needs to come from the person who is making the change," she told HuffPost Australia.
"Helping the person realise themselves that they have a problem is key, and in turn gives them tools to own the solution," Salis said.
"Pointing out, 'you're obese, and that's going to put you at higher risk of this disease or that disease...', that's not going to change anyone," Salis said.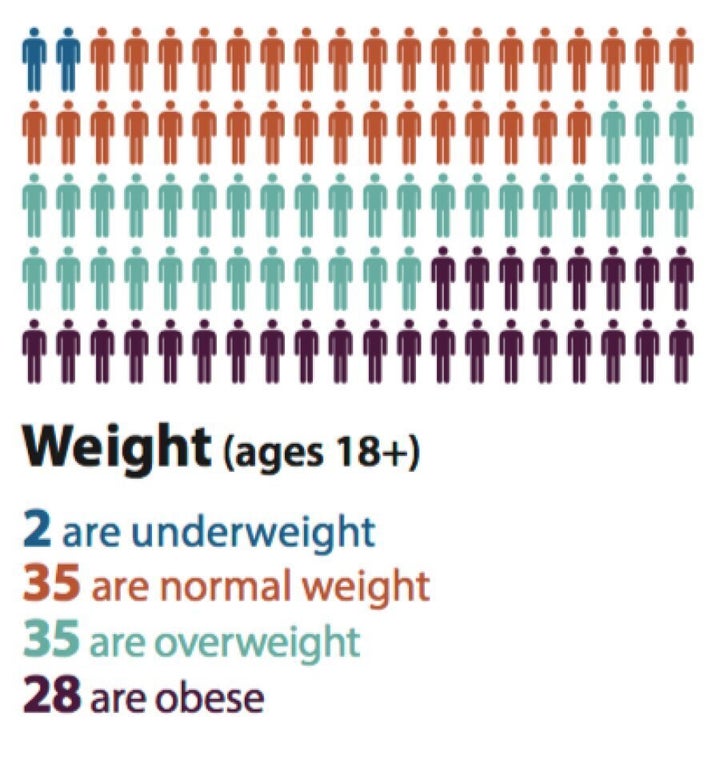 "People often, and health professionals too, think that it would change people and motivate change in that person, but it doesn't.
"Human beings feel happy to the extent that we feel in control of our own destiny and our own lives. People like to have freedom and be in control of what they do. And so when someone tells you what you should be doing, it takes away from your freedom and independence.
"We like to feel like we're masters of our destiny."
And so it is with Leonie Oakes, who after spending three months on an 800 calorie-a-day diet, lost 16 kg and stopped her pre-diabetes in its tracks.
Keeping that weight off took "40 little adjustments" to her life.
"It was more about switching things," she said, telling the HuffPost Australia she changed her diet in slight ways, such as slightly dropping her carbohydrate intake, or adding more vegetables to her meal.
"Since my 40s I'd lose weight, then I'd put it back on. I tried a lot of different diets, but I knew they didn't work. So I had to work out what my changes were. You have to experiment with yourself, and work out what does and doesn't work for you."