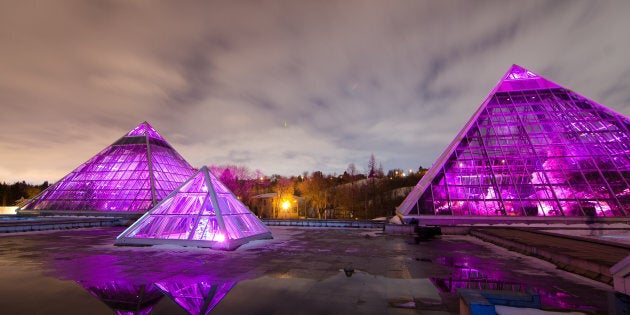 You generally hear three things from Australians about Edmonton: it's cold, it's a humble blue-collar town, and they love their ice hockey (Wayne Gretzky, anyone? Yeah, that guy). These things all bear out once I land at Edmonton International Airport, but that doesn't begin to tell the story.
Yes, it's cold. Even in fall, there are days where the temperature flirts with freezing point and if you attempt to compare the season to Australia's Autumn, as I foolishly did, then you'll arrive completely under-clothed. But it's not a biting cold, at least not at this time of year. It's fresh, low humidity, relatively still, and altogether pleasant. The locals will tell you that this winter is projected be the coldest ever (roughly 30 degrees C BELOW) "but it's really not that bad". We'll take their word for it.
Yes, it's a humble blue-collar town. When you drive due north from the airport towards the CBD you could easily imagine yourself in a rustbelt city from America's mid-west. Edmonton is a city built on industry (hence the hockey team's name, the Oilers) and commitment. But there's a simple beauty to the city and its people that almost immediately embraces you. Within an hour, drinking a locally brewed pilsner and smiling at strangers on trendy Whyte Avenue, you can imagine spending much, much longer than a week here.
And that brings us to the hockey. Admittedly, it's a sport with which I only pay a passing interest but in Edmonton, you're an Oiler. No questions asked. The city's most famous son, Wayne Gretzky, was in town the week I visited to open the brand, shiny new stadium -- Rogers Place. It's not just a modern arena, but the focal point for a new downtown hub that's alive with innovation, entertainment and the vibe of a city intent on renewing itself.
When I make my way through the concourse for Edmonton's match against the Carolina Hurricanes (don't mention the Stanley Cup folly, or you'll be persona non grata in YEG) I notice all but a handful of fans wearing the blue and orange of number #97, Connor McDavid. Drafted first overall, a year earlier, McDavid at just the age of 20 has been named captain and with shouts of 'McJesus!' whenever he nears the puck, it's clear the fans have embraced the second coming of Gretzky. Edmonton might have been the house that Wayne built, but Connor will be the one to add the second-floor balcony and heated lap pool.
But it's after the game (the Oilers won 3-1, by the way) that I truly begin to appreciate the life of Edmonton and its entrepreneurial spirit. I'm hanging out with a guy my age, who's born and raised in the city. He takes me to a bar nearby the stadium; he once owned a share in the place. It's a lot different now than when it was in his hands, so he wants to see what they've done with it. He's not sad or even nostalgic. It's as though everyone in Edmonton owns and runs everything together: one in, all in. Even though he's moved on to different pursuits, there's a sense of pride in his face as we sit at the bar and take in a tart pale ale. By now we've discovered we both like beer, and talking about the cities in which we grew up.
Before long we find ourselves at Craft Beer Market, sinking into a couple of the 100+ microbrews on tap. The beer itself is great, but we dive into a vivid conversation about the city. I find myself comparing it constantly to my hometown, Brisbane; not because I want a reference point, but because the similarities are self evident. It's the once-unfashionable major capital city that in the 21st century has forged its own, new cultural identity. It's a place where people who grew up there tend to stay, and raise families of their own. It's a community of like-minded, spirited and friendly people. It's not as if everyone literally knows everyone else, but it sure as heck feels that way.
After our nightcap, a refreshing pint of Parallel 49's Jerkface wheat ale, I'm taken around the block to a mural that I'm told sums up Edmonton's homegrown, make-it-here spirit. We stop mid-way down the street, turn, and I look up and see it.
Take a risk. It's the most Edmonton thing you can do.
It speaks to the city's ethos: Make Something Edmonton. It's why the city's other favourite son, chef Brad Smoliak, still calls Edmonton home. He's traveled the world and cooked for the Queen, no less, yet this is where he still makes his, er, bacon. Smoliak meets me at The Black Dog on Whyte Avenue, and happily declares it's a "Guinness kind of a day!" as we treat ourselves to an afternoon frothie. Smoliak's 'Kitchen By Brad' (he affectionately calls it "the shop") is a culmination of a culinary career that's really hit the sweet spot. Later we drop into his first love, the Hardware Grill, where he's greeted by old colleagues and friends as if he's the Godfather granting blessings on the day of his daughter's wedding.
Whether Brad Smoliak, Wayne Gretzky or James at the pub, Edmonton's people are individuals united by a common drive. And it's that spirit that I'll remember from a week in the Alberta capital. Sure, there's the world famous West Edmonton Mall; the meticulously brewed slow-drip coffee from Farrow sandwiches; the prized sighting of bison -- magnificent creatures preserved at Elk Island; the stunning pyramid-style Muttart Conservatory that pocks the hill north of North Saskatchewan River; and deliciously balanced cocktails at the regal Hotel MacDonald.
But it's the pride that everyone has and exudes to be Edmontonian. The conversation I had with a stranger at a cafe about empathy and kindness; the local comedian and broadcaster laughing as recorded a podcast over a pumpkin ale in the corner of a burger joint; and the reminders of home, on every street corner, from the other side of the world.
If home is where the heart is, then Edmonton's heart is in exactly the right place.
Chris Paine visited Edmonton as a guest of Travel Alberta.
ALSO ON HUFFPOST AUSTRALIA