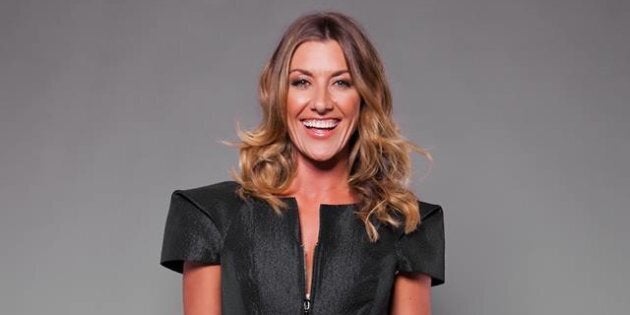 Weekend Sunrise newsreader, Talitha Cummins, did not fit what she believed to be the stereotype of an alcoholic.
The 36-year-old journalist reveals she privately battled an alcohol problem for years, often keeping it hidden from friends and family.
The popular newsreader speaks out about her struggle in ABC's Australian Story on Monday night, calling herself the 'modern face' of alcoholism.
She first went public about her battle unintentionally when she accidentally published a private blog to Facebook detailing her problems with binge drinking.
"I guess when it came out initially I was quite shocked by it but then I was amazed by the response as it obviously resonated with people," she told The Huffington Post Australia.
Cummins received an overwhelmingly positive response as she immediately heard from other people whose lives to had been affected by alcohol.
She said she was approached by Australian Story when the news came out but she just didn't feel it was the right time.
"Four year sobriety under my belt and now I feel like it's a good time to talk about it," she said.
Cummins was leading a double life, a popular news reporter by day and a binge drinker at night, often consuming up to four bottles in one sitting.
She said being confronted by her boss at Channel 7 finally gave her the strength to start the long road to recovery.
"The chief of staff had sat me down said are you okay? And I said, no," Cummins said this was the turning point.
She praises her strong support network that's made up of great friends, her parents and her husband, Ben, who has also stopped drinking to support her.
Cummins describes herself as the modern face of alcoholism and she said, this is part of the reason of why her problem was so hard to initially address.
"The stereotypical alcoholic is a man laying on a park bench, drinking booze out of a paper bag and that's not necessary the case.
"Those stereotypes are stopping people from seeking help. I didn't believe I was an alcoholic because of the stereotypes associated with it," she told HuffPost Australia.
Cummins said there is no finish line in recovery and the process will go on forever, she said her social life now mainly revolves around breakfast or lunch.
When asked "what keeps her grounded?", she said "the simple life" and with her fighting spirit and raw honesty, Talitha Cummins deserves exactly that.
Australian Story: The Big Dry airs Monday, October 10 at 8pm on ABC and iview.