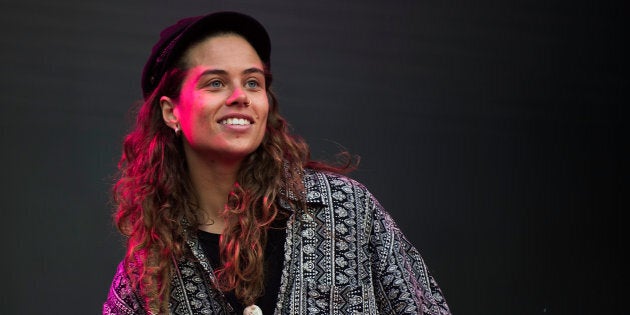 She's known for her multi-instrumental talents and her openness about her history with drug addiction. She's raw and inspiring, and she doesn't shy away from her struggles.
Melbournian artist Tash Sultanaposted online on Monday, opening up about her recent struggle with mental illness. She did this to encourage people with mental illnesses to seek help for their conditions. In the post she explains that her tour schedule -- which has required her to live on the road for two years -- has been wonderful but taxing.
"I ran out of energy and my soul was tired and I was scared for my life how dark my mind got," the post reads. "I thought I was going to die from the shadow my mind cast."
Her post finishes with a motivational message that encourages people to reach out and surround themselves with people, places and hobbies that provide them with support and a positive outlet.
"There are people listening, nothing lasts forever when you accept that things will change. Feed your brain with beautiful thoughts, things and people. Keep going on."
Sultana feeds her mind with her music. She started playing the guitar when she was just three years old, so music has always been part of her life.
In a recent interview with The Feed SBS VICELAND, Sultana explained that music helped her heal. When she was just 17, Sultana over-dosed on drugs and developed drug-induced psychosis, which saw her live in what she describes as a state between life and death for a period of nine months.
"I remember once, I could not understand if I was actually alive or and my whole life was a lie/ a dream or if I was dead and in an unconscious state. I couldn't actually differentiate between the two," Sultana said.
Music played a significant role in getting Sultana back on track, and eventually, she started her music career by busking on the streets of Melbourne. She then began filming her practice sessions at home with a Go Pro her mum bought her one Christmas. Her YouTube videos soon became extremely popular, and in 2017 she sold-out her very own world tour. Sultana's first studio album is set for release in 2018.
With one in five Australians -- between the ages 16- 85-- experiencing mental illnesses in any year, Sultana's message to seek help and strive for recovery is an important one.
The highest prevelence of mental illness in Australia is found in young people aged between 18-24 years and common illnesses include anxiety disorders, depressive disorders and substance abuse disorders.
The messages of mental illness groups including beyondblue and Black Dog Institute correlate with Tash Sultana's -- encouraging people to speak out and seek help if they are suffering from an illness.
There's no shame in asking for help. People are listening.
If you need help in a crisis, call Lifeline on 13 11 14. For further information about depression contact beyondblue on 1300 22 4636 or talk to your GP, local health professional or someone you trust.