Tasmania is in the middle of one of its worst weather emergencies in nearly a century as widespread flooding devastates large parts of the state's north, with grave fears held for two missing people.
As the east coast low that smashed NSW on the weekend eases on the mainland, it is in Tasmania where the brunt of the big storm is now being felt.
One hundred roads have been closed, submerged by floodwaters.
On Monday, 107 people were rescued from flooded roads and houses by the Westpac Lifesaver helicopter.
Police are continuing to search for:
The body of a woman aged in her 70s was found on Tuesday ; her husband was earlier winched to safety in Latrobe.
There has been widespread property damage across the state, including:
50 properties in Newstead
20 dwellings and 15 businesses in Latrobe
7 dwellings in Wynyard
5 dwellings in Ouse
A number of properties inundated in outlying rural areas

Source: SES/Tasmania Police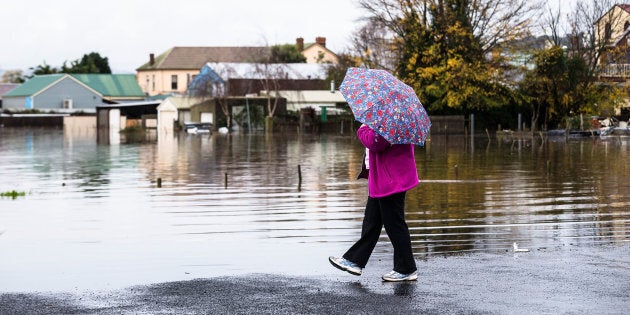 On Tuesday, a group of people was rescued by police after sheltering in a boat overnight.
"Six adults males have been located safe and well near Schouten Island after taking shelter in their boat overnight," a Tasmanian Police spokesman said.
"They have been transported to Coles Bay by police vessel."
Police said the men had been "intent on surfing a reef break off Schouten Island" .
"As they approached the island their boat was swamped by a wave, rendering the craft powerless. The men managed to guide the craft into the shore, where they spent the night awaiting rescue," a spokesman said.
"These men were very lucky. In these conditions there could have been a very different and tragic outcome."
Bureau of Meteorology (BoM) forecaster John Bally told the ABC that it was likely some rivers would not get back to normal levels for some days.
"We've got four rivers, that's the Mersey, the Meander, the Forth, and the North Esk that are at or forecast soon to be the highest flows that we've ever seen," he said.
Tasmania's State Emergency Service said Latrobe was the hardest hit area.
"We saw other effects continue yesterday into the Launceston Basin, particularly the suburb of Newstead where up to 50 residential houses were inundated," Nick Wilson, Acting Director of Tasmania SES, told ABC News 24.
"Although there has been a cancellation of the severe weather warnings from BOM, I want to highlight the fact that we still have five major flood warnings prevalent throughout major river systems across the State, and we are seeing certainly an increase in river levels in areas throughout the State which are causing significant concern.
"There is treacherous road conditions that, tend from the north-west through north and into the south, and I urge all people that if travel is nonessential, they should not try to undertake it, and under no circumstances should they attempt to cross flooded roads and/or waterways."