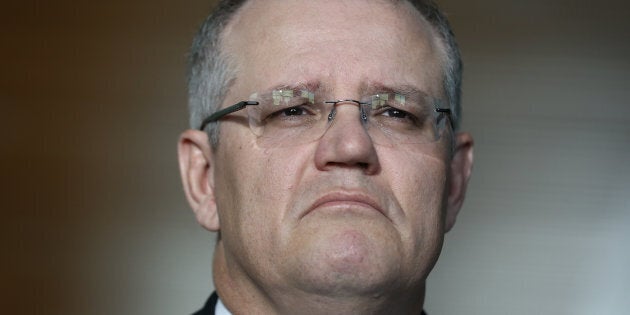 The Australian Tax Office has warned potential homebuyers to be wary of using the Government's deposit savings program until the supporting legislation is locked in, amid confusion over the final details of the proposal.
Nearly four weeks after the launch of the scheme -- one of the central planks to tackle housing affordability from the May budget -- the Treasurer's office has been unable to answer questions posed by HuffPost Australia about how clients can access their funds, because fundamental details have not yet been finalised.
The "super saver" scheme allows aspiring homebuyers to salary sacrifice up to $15,000 a year into their superannuation accounts. By saving their pre-tax income, and taking advantage of the unique tax arrangements around superannuation, the Budget papers said that over three years, 'Louise and Craig' -- a fictional model couple included as an example -- could save an extra $6240 more for a home than if they had put their savings into a regular bank account.
The scheme opened on July 1, with the Government advising clients would be "able to apply to withdraw voluntary contributions made to super... for a first home deposit".
But it appears the Government has overlooked the mechanics by which people would be able to withdraw the money when needed.
Nowhere in the Budget papers, nor on various online resources around the super saver scheme (here, here and here) is there much information on how, when and in what circumstances that money will be released from superannuation accounts.
On July 4, HuffPost Australia sent Scott Morrison's office a series of detailed questions about how and when people will be able to access their super saver funds, what requirements will have to be met before that money is released -- such as whether people will have to supply proof of a pending home purchase -- and what happens if someone decides not to buy a house after all. On July 17, the Treasurer's office responded with a one-line statement:
"The Government will be releasing draft legislation shortly for consultation, consistent with the normal process for progressing budget measures." Treasurer's office
A Treasury spokesperson said no further information was available. When asked why the scheme was opened on July 1, before all the details are available, the spokesperson said, "people aren't obliged to put their money in".
HuffPost Australia understands the final details of how and when funds will be released are not available because they are contingent on legislation passing the parliament. As super accounts are usually locked until retirement, any changes allowing people to withdraw part of their superannuation requires changes to law.
HuffPost Australia asked Treasury, as well as the Australian Tax Office (which has jurisdiction over superannuation) how many people had signed up for the super saver scheme since it had opened. Neither were able to provide a number, but the ATO told HuffPost Australia that people interested in the scheme should think twice before salary sacrificing their income.
"We are unable to comment on policy that is yet to be enacted by Government," an ATO spokesperson said.
"If you are contemplating participating in this measure, you should remember that the proposal is yet to be legislated, and as such, should ensure that you are fully aware of the implications of this before making any financial decisions. You may wish to seek advice from a licensed financial adviser."
A recent story in The Australian newspaper reported that superannuation providers are also concerned about the scheme. Super companies said people should have "a high degree of caution" before committing.
"If I was in the shoes of a first-home buyer, a high degree of caution is warranted about committing significant money to this, in the absence of legislation being passed, because there's no guarantee you'll be able to withdraw from your super account at this point," ISA director of public affairs Matthew Linden told The Australian.
"Currently once money is put into superannuation you are unable to get it out again without meeting certain age or hardship criteria. Members putting money into superannuation before the bill is formally passed could find themselves restrained by these conditions," added Eva Scheerlinck, the chief executive of the Australian Institute of Superannuation Trustees.
ALSO ON HUFFPOST AUSTRALIA