A neighbour who left an angry note on an ambulance which was treating a critical patient who later died, has described his own actions as "monstrous".
Hassan Shabbir, 27, said his behaviour was "appalling" and that he was "disgusted with himself" after he penned the note and stuck it to the ambulance's windscreen.
It read: "You may be saving lives, but don't park your van in a stupid place and block my drive."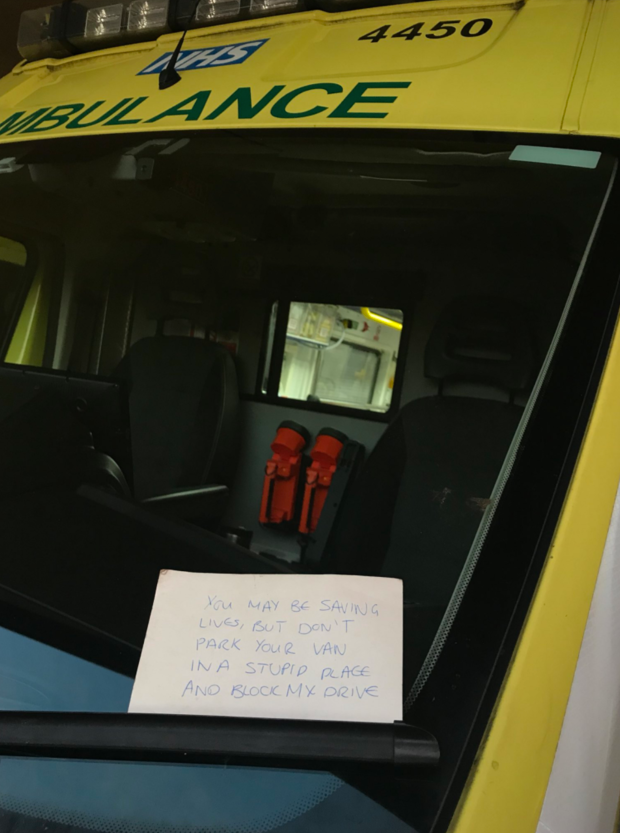 The ambulance had been forced to double park outside a drugs rehabilitation centre as it had no other option as paramedics battled for an hour-and-a-half to save the patient.
But the 42-year-old resident passed away after being rushed to hospital with massive internal bleeding.
Speaking on Monday after returning from his job as a teaching assistant at St Saviour's Primary School in Birmingham, Shabbir apologised for his actions.
He said: "What I did was monstrous, but I am not a monster. There is no justification for what I did. I am deeply ashamed at my actions, even before I found out the poor man had died.
"Now I know that, it makes it even worse and my heart goes out to his family. I feel truly sorry and I completely regret what I did."
Shabbir, who lives three doors down from Livingstone House where the ambulance had parked, claimed he waited patiently behind the ambulance for 20 minutes before losing his temper and writing the note.
He said he was coming home to switch cars and go to an appointment on Friday and that previous issues with parking on the street had angered him.
He said: "I was coming home from work and had to go to an appointment in a different car. There was another guy waiting to come out of the drive but we were both blocked by the ambulance for 20 minutes.
"I just snapped and had a rush of blood to the head. I scribbled the note, rushed out and put it on the windscreen. There is no excuse for what I did. It was very bad.
"I knew it was wrong before a friend told me what had happened to the man in it.
"But parking here is very bad, and I've been blocked in before. I've been blocked by the police as well, not knowing where they are or what they are doing.
"There have been times I've been blocked from going to work. If I could take it back I would."
Shabbir, who was born with a congenital condition affecting his right hand which forced him to have reconstructive surgery, says he recognises the value of the NHS and the role it plays. He even impresses the importance of the service to children at school.
He said: "Of course we teach respect of the NHS and paramedics at school. It's very important. I was born with a congenital condition and the NHS had helped me so much in my life. I really respect those guys.
"When my wife was pregnant with our first child, she had to be rushed to hospital and we were blocked in. It was a bad memory but there is no justification. I have been to pray and ask for forgiveness. I hope the family accept my apology."
John Hagans, a nursing consultant at Livingstone House, said: "We are completely disgusted by the note. Words fail me. This person deserves to be shamed. If the person who wrote it had had any idea of what was going on inside, they would not have dared.
"The resident collapsed in the home and was vomiting blood and our nurses and the ambulance crew battled extremely hard to save him."
Hagans said the patient had been at Livingstone House for three months and was clean when he died.
He suffered an unrelated medical episode and passed away at Heartlands Hospital on Friday evening.
At the time, West Midlands Ambulance Service, as well as several paramedics, took to social media to express their dismay at the note.
The ambulance service tweeted: "Sometimes we just don't know what to say. This was the note left on an ambulance today. At the time, the crew were helping a man who was extremely unwell after vomiting blood.
"They took him on blue lights to hospital where he was in a critical condition. #patientscomefirst"
Tasha Starkey, a paramedic covering the south and city centre of Birmingham, was one of the officers who responded to the call.
She too posted a picture of the note on Twitter, which was only discovered when she had safely delivered the patient to the hospital.
She said: "Crew alerted an extremely poorly patient to hospital... minimal on scene time, arrived at hospital to find this note... this patient was TIME-CRITCAL."
Paramedic Clinical Team Mentor Sam Grimson wrote: "One of our crews encountered this delightful note after assisting a patient suffering a major internal bleed! The crew were not on scene long due to how poorly the patient was.
"We always try to park appropriately but sometimes it is not possible."
It was not the only incident that affected emergency services in the West Midlands over the weekend.
West Midlands Ambulance tweeted about a similar incident on Saturday, writing: "Just heard from one of our staff that two crews were treating a cardiac arrest patient today – the most serious case we can attend – and someone banged on the side of the ambulance asking them to move as they couldn't get their car out! Sorry, #patientscomefirst #sad"
West Midlands Police also tweeted that a marked police vehicle had been damaged at a Remembrance Sunday event and its windscreen smashed.