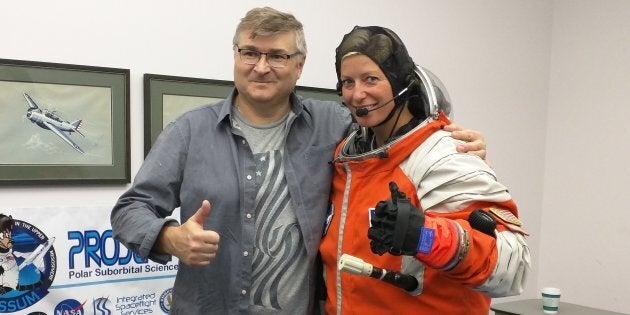 Talk about effective multi-tasking.
In a TEDx world first, Dr Sarah Jane Pell, an Australian artist-astronaut, will be shown delivering a surprise talk to TEDxMelbourne on Wednesday that was filmed while she was both flying a plane and testing a space suit on a trial mission in Colorado, US.
Dr Pell, whose passion is extreme performance art in environments as diverse as the ocean floor, Mt Everest and in space, answered the call from TEDx organisers to create a presentation in a unique way and created a seven-minute film.
She is part of a space mission called PoSSUM (Polar Suborbital Science in the Upper Mesosphere) that will send up a two-person space shuttle in either June 2018 or 2019 to take photos of a strange noctilucent cloud that glows at night in the summer beyond the auroras in the north and south poles.
Dr Pell decided to film her TEDxMelbourne talk while testing a microgravity spacesuit, the Novel IVA (Intra-Vehicular Activity) suit above Boulder, Colorado -- and also piloting a Mooney aircraft up to 12,000ft. And it was hot stuff -- literally.
"It's not something you'd wear on a spacewalk, it's only the suit that you would wear inside the vehicle," she told The Huffington Post Australia.
"We had two days to film and conduct the drills where I was testing the dexterity of the gloves -- which are the most technical part of the space suit -- but the spacesuit gets incredibly hot and we had built in a custom cooling vest that was fitted with 5kg of ice blocks.
"We had cameras set up everywhere and I delivered a TED talk. I was actually flying."
In her future space flight, Dr Pell and her pilot will ascend 103km from Earth in a sub-orbital space vehicle, spend six to eight minutes in gravity-less conditions, then hurtle back to Earth through the cloud, collecting samples and taking photos on the way.
"We have a special camera that will enable us to take rapid long images called tomography -- it's a bit like an MRI," she said. "So while we are spinning and free falling back to Earth our job will be to take the samples and photograph it and hold the cameras on it even though our bodies are spinning around."
As an artist who is part of what she calls a citizen science-driven space flight program, Dr Pell says the fact that an accomplished performance artist with no undergraduate science education can study at the prestigious International Space University, (the first artist to graduate), the Embry-Riddle Aeronautical University then collaborate with NASA and the European Space Agency to become an accepted crew member of a space exploration mission signals the dawning of a new age.
"I think I told my parents early on that I would like to be an astronaut, but it didn't seem to be an accessible or realistic option for an Australian or a girl or a woman," she said.
"No one encouraged me to continue with that vision. It wasn't until later on that I realised I had been creating so much artwork about escaping to this underwater world and when I was offered an opportunity to go to the space university it suddenly became within arm's reach."
While Dr Pell's work seems fairly complicated, her TED message is rather simple -- anything is possible for those who are 'imagineers' -- especially when it relates to space travel.
"Not everyone has to be an engineer, but everybody has to be an imagineer to really contribute to what is essentially a really exciting phase in history where opportunities are opening up," she said.
"My participation in that is about saying every space project needs an artist and that really represents the transformation from going from the elite access to space to a really broad cultural access to space."
Dr Pell is getting plenty of grist for her creative mill. She's creating short films based on her astronaut experience and is inspired by other projects she's involved in. She just completed a two-week underwater simulation of a new spacesuit and astronaut-robot collaboration in Marseilles, France as part of an initiative called Project MoonWalk, and next year she'll be involved in a 100-day undersea mission called Project Poseidon in Florida.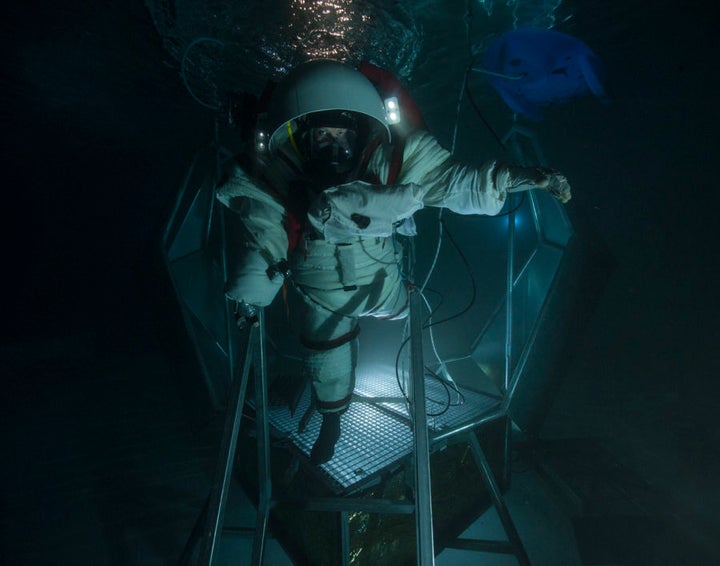 "Increasingly I am getting more and more access to opportunities to train and be involved in preparing for future missions and at the same time as an artist I can getting more and more stimulation and inspiration for work," she said.
"It's a lovely loop that I create scifi movies and now I'm part of one. I am effectively living my dream in a way, or dreaming to create a dream."
In keeping with Dr Pell's "From sea to summit to space" art initiative, there'll be a significant art component to the PoSSUM space mission too.
"There is an expectation that I will also do something rather unique," she said. "I am excited that we get to go through an Aurora and that's one of the most poetic experiences.
"I want to show something of the human experience of floating from the perspective of someone who has a human performance background and play with that. I will have six to eight minutes of time to perform in space and to film something -- I am yet to work out what that will be."