A 19-year-old New Zealand man who has a giant tattoo sprawled across his face is struggling to find a job after being released from jail.
Mark Cropp was serving a two-year sentence in Otago Correctional Facility for aggravated robbery after he and an associate pulled a knife on a tourist in Nelson on New Zealand's South Island.
He told the New Zealand Herald that he decided to get 'DEVAST8' tattooed across his face while in jail to deter other inmates from bullying him.
"I was going through a rough patch, of quite a lot of people hating on me, trying to bully me," he said.
"Part of jail life, you get people with tattoos and you look at them, step back, 'Watch out for that guy' sort of thing."
While Cropp had originally planned for the tattoo to be much smaller and along his jawline, it "all went out the window when we had a bit too much to drink inside".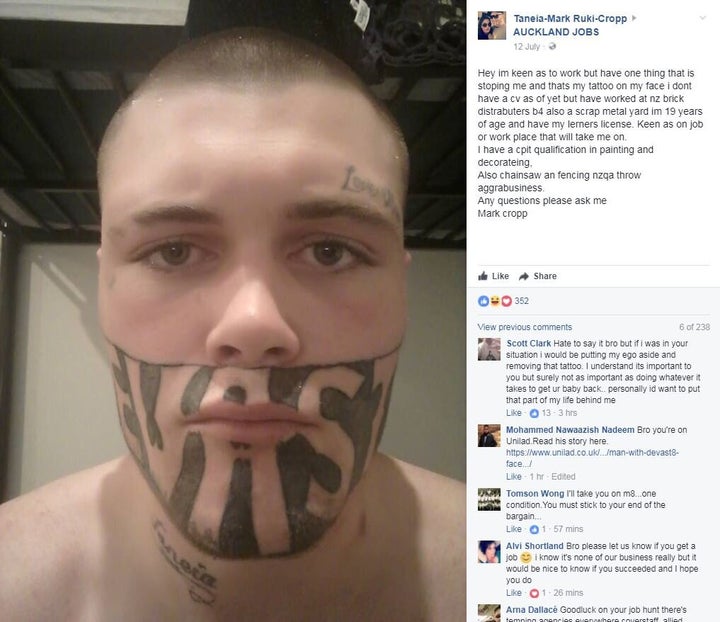 According to the NZ Herald, the 19-year-old had been drinking homebrew made from fermented apples, sugar and bread.
"I drunk it and before I knew it I had this on my face... It was swollen like a bloody pumpkin," he said.
Following many failed attempts at a job after his release -- with many interviewers allegedly shrugging and laughing at him -- Cropp decided to post a photo of himself on an Auckland job-seeking Facebook page.
Since his post on Wednesday afternoon, the father-of-one has been inundated with opportunities and will review his offers on Friday, according to NewsTalkZB.
Cropp -- who says he is "sick of being on the dole" -- hopes that he'll soon be able to secure full-time work, "put meat on the table" and live a normal life with his partner and young daughter.
ALSO ON HUFFPOST AUSTRALIA