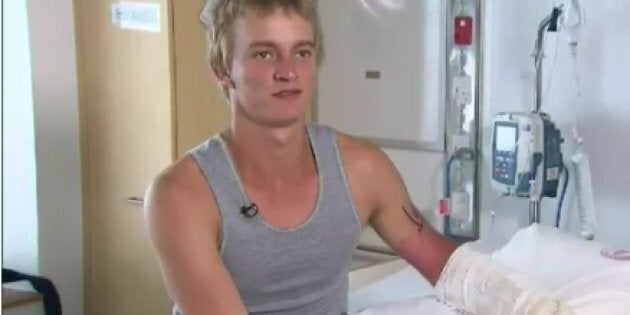 When 18-year-old Lee De Paauw jumped into crocodile-infested waters in far-north Queensland on Sunday morning, he was convinced he would walk away with his bravado and the girl he was trying to impress.
The last thing on his mind before hitting the water of the Johnstone River in Innisfail was the crocodile that then attacked him, almost severing his left arm before he managed to escape and was taken to hospital.
De Paauw appeared on Channel Nine's Today show on Tuesday to explain his decision to take to the water, saying it was all for "that beautiful backpacker".
"She's not really [special], just another girl. But she's really good looking and been kind to me the night before," he told Today hosts Lisa Wilkinson and Karl Stefanovic.
"She didn't even know I'd been attacked at first, she thought I was pulling her leg until I hopped out of the water and walked up the stairs with my arm hanging down."
De Paauw told Channel Nine on Monday that he deliberately jumped into the water after having "about 10 cups of [cask wine]" to "test the theory" he had told backpackers that Australians were less likely to get attacked by a crocodile than a foreigner, and hopefully impress the British traveller, who he had just met.
"I started telling them about how backpackers are more likely to get eaten by a crocodile than Australians, so we decided to go down to the river and test the theory," he said.
The crocodile latched on to his left arm and started to drag De Paauw away from shore before he managed to punch it on the nose and gouge one of its eyes, forcing it to let him go and leaving him with broken bones and gashes from where the animal's teeth had clamped down.
The girl in his sights, British backpacker Sophie Paterson, said she was left to look on as De Paauw struggled with the crocodile.
"It all happened very fast, pretty much as soon as he jumped in, there was splashing and screaming," she said.
"There was blood everywhere and he just wouldn't stop screaming.
"I've never heard a guy scream like that, he was obviously terrified and he was obviously in agony and it was just sheer panic."
De Pauuw was taken to Innisfail District Hospital before being moved to Cairns hospital to undergo surgery to save his arm.
Queensland Ambulance Service Cairns spokesman Neil Noble said: "It's very fortunate that he survived this incident and was able to be rescued.
"Circumstances that led up to this attack are quite sketchy but reports from the scene are that he was dared to jump into the water, which he did, and unfortunately that area is well known for its crocodile population and we're just very grateful that he survived this incident because it could have turned out to be quite fatal."
Now in a stable condition, De Paauw said he wants the crocodile, which has now been trapped by authorities, to be released elsewhere and to have a happy life.
And in terms of whether Sophie was impressed by the incident -- she has now reportedly accepted to go on a date with De Paauw.
ALSO ON HUFFPOST AUSTRALIA