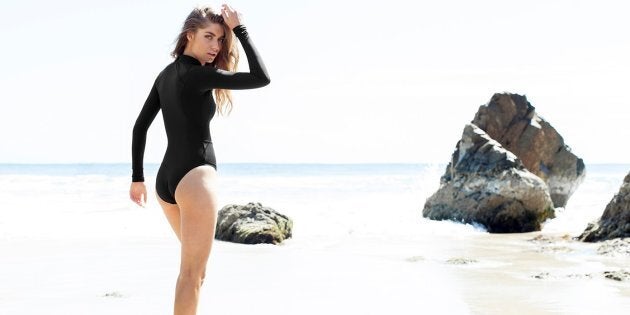 As far as fashion start-ups go, the dream is that everyone will hear about your designs and want them, ideally before they are even available. It's that type of hype which can make or break a new label, but fashion is fickle and that kind of buzz is elusive.
Lucky for Carly Brown, she was able to harness it. Previously the Senior Marketing Manager for UBER, she launched her swimwear label, UNE PIECE, just three months ago. Her designs attracted a waitlist of over 500 women ahead of the official online release, and sold out within their first week of going on sale. In fact, her site had close to 20,000 visitors on it's first day.
As the brand expands into Europe in the coming weeks, Brown reflects on what makes her designs stand out, and why she got started in the first place.
"About a year ago, my husband asked me what I would do if I could do anything that would make my heart happy, and I knew straight away. My own business," Brown told The Huffington Post Australia.
"I wanted to work in an industry I could make a difference in. Working with women as consumers -- I love women and the way our minds work. Building a strong team that were passionate."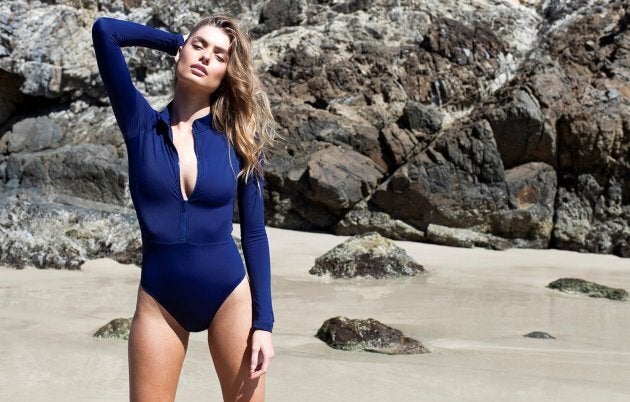 With that as her drive she set out to work on an idea that offered the women she wanted to work with and for more choice.
"The idea of a 'One Piece' swimwear label came from my time living in Europe. I spent most of my twenties living and working in the UK. In Europe women don't just exclusively wear bikinis -- they have a 'repertoire' of swimwear they take on holidays -- which almost always includes at least one staple one piece. It often takes them from day into night," Brown said.
"When I started designing the range I talked to so many Australian women about what they wanted in a one piece. Overwhelmingly they said they wanted something that made them feel confident, and in turn, beautiful."
Beyond confidence, practicality also played into it.
"One theme that kept coming up was the issue of the Australian sun and how so many smart women are wearing rash vests which they thought were daggy and unflattering. So I took that as a challenge to see if I could created something truly beautiful in a one piece, and voila, the Original Sexie Rashie was born," Brown said.

Brown's designs are a welcome change in an otherwise largely un-disrupted market.
"I think that we are seeing a resurgence in elegance rather than in modesty," Brown said.
"I think women have responded so well to my designs because the product makes them feel confident and empowered. The range was created with 28 pieces to be fully contoured with the use of the best Italian SPF 50+ fabric on the market. I researched and researched and researched until I got the perfect fit. I didn't compromise.
"I also think the brand resonates with them. We celebrate women and their passions. We have a beautiful, clean and chic aesthetic but we are inclusive and I am actively supporting diversity of beauty at every touchpoint. We sell size 6 to 16, and for a start up brand this is a wide size range. I was encouraged not to do such a broad size spectrum but I was determined to make our products accessible to as many women as I could. It's not fair just because you aren't a size 8 or 10, you can't get access to beautiful products," Brown said.
Brown is big on body confidence and wants women to live it, not just use it as a catch phrase. She recently launched the #unepiecewomen campaign and hashtag which celebrates women, regardless of shape and size. Part of her passion for this stems from her own experience.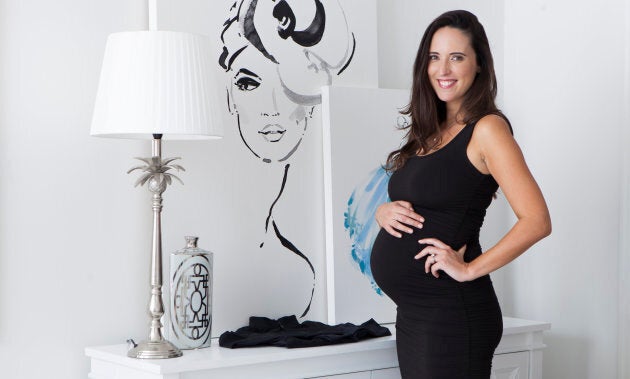 "I have literally just been through nine months of body-altering pregnancy and in week one of being pregnant I made a conscious choice to embrace the change and see beauty in the marvel of what was happening to my body. I won't lie, it's not easy to always feel like this. But if we don't see beauty in ourselves, how can anyone else?
"I think for many women it is a lifelong battle -- the sooner we realise that we aren't all built to be 'Barbie-doll' proportions the better. I love the movement that is starting to celebrate healthy attitudes to body image like the Any Body Co ladies are also helping to drive," Brown said.
ALSO ON HUFFPOST AUSTRALIA