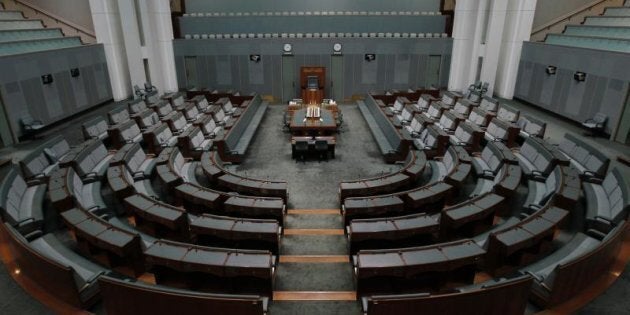 CANBERRA -- Australia's 45th Parliament is one of those ill-advised jokes where no-one is laughing.
There's an uncomfortable, shocked, perplexed, perhaps even pained look going around and around. But it's utterly humourless.
At the seat of power, it appears too few are taking their jobs seriously enough to do due diligence when nominating for election.
And far too many of those politicians under a constitutional cloud respect the Australian people enough to publicly prove that they have not breached the Australian Constitution.
Not only did she not properly investigate her British ancestry but she's helped put the Nationals' leadership team in jeopardy (with help from Leader Barnaby Joyce). At the last possible moment in the Parliamentary fortnight, she rose in the Senate to announce she might be a British citizen by descent. Her father was born in Scotland.
Nash said advice from the Australian Solicitor General was only received before she addressed the Senate. But the timing is dreadful.
This is yet another case for the High Court to decide. It adds to Greens Senators Scott Ludlam and Larissa Waters, One Nation's Malcolm Roberts, the Nationals Senator Matt Canavan, the aforementioned Deputy Prime Minister and possibly Barry O'Sullivan (not over citizenship -- rather another subsection of Section 44 of the Constitution).
With reasonable question marks over Joyce, Nash and Canavan, we have problems with the Nats leadership team and an obvious leadership successor.
What is going on with their admin processes?
This is plainly a ridiculous situation for Australia's Parliament to be in.
It is now an issue of trust.
Confidence in our federal politicians needs to be restored. An immediate audit of our current parliamentarians appears a reasonable request. Members of the crossbench have called for it and have been knocked back until now. That should include Labor publicly releasing all documents relating to its MPs.
We've been told the ALP has the most stringent of processes, including expert legal advice and the wisdom of former Labor Senator John Faulkner. They also freely set out step-by-step details of how they vet candidates -- unlike the Coalition, which issues one line statements.
But what do we know for certain?
Is that really what it's come to?