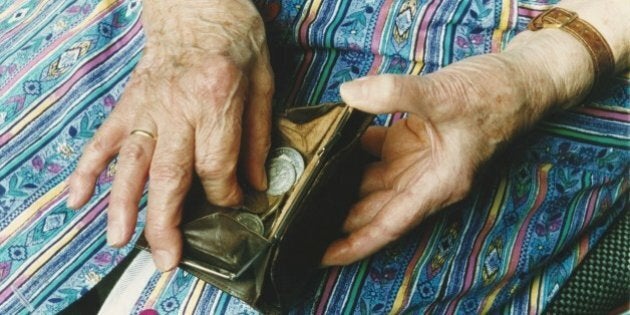 It's been 12 weeks since my Mom died. I found her wallet recently. There was her driver licence, her credit cards, and exactly $7.05 in coins.
​Also tucked away in her distinctive handwriting on a folded-up piece of paper were the mobile phone numbers and addresses of my Dad and siblings. Mum didn't have a mobile, nor did she have any social-media accounts. She didn't know how to use a computer. Still, she knew how to contact the people she loved the most. How much I would love to receive one of her beautiful cards, perfectly picked for whatever the occasion in question, in my letter box just one more time. She would send a card with a sweet note inside, often with a scratchie or two included, to celebrate birthdays, new jobs, or just to send love.
Beautiful Mum was in a great deal of pain. "I don't want you to see me like this," she said to my little brother, our partners and me, as we sat around her bed attempting to share some yuletide cheer last Christmas Day.
Three days after a very sad Christmas, the funeral director was sitting at the kitchen table, the same table we all had sat at as a family so many times -- more often than not sharing another one of Mum's culinary masterpieces. He was helping us with the funeral arrangements; our beautiful Mum had wished to be cremated. "A lot of people like to dress their loved ones in a favourite item of clothing," he offered, gently. Mum was wearing a lot of grey in the year or so before she died. This wasn't her. I recently re-read her diary from 1988 to remind me. That was the year our parents took us five kids up to Port Douglas. I was only four but have wonderful memories of that year.
In the 1988 Port Douglas diary, Mum recounts driving to Cairns on that scenic Captain Cook Highway for clothing patterns. Looking through photo albums from that time, the day after Mum died, there she was in gorgeous aqua, peaches and classic eighties colour-block patterns.
Mum never told me she was unwell. She would always deflect the conversation. I am sure it was because she didn't want me to be upset, or to worry. Mum didn't want to get old. I am slowly beginning to accept that this is the way she wanted the last chapter of her life to play out. She always, always put everyone else first.
Her illness manifested itself in other ways. She drank a lot. She developed serious anxiety. She didn't leave the house. She stopped wearing the colourful clothing she was known for. As the funeral director waited at the kitchen table, my brother, in tears, brought out the summery blue Cotton On shorts and white t-shirt emblazoned with silver stars. The cancer, the drinking, the anxiety had stopped. Mum could wear colour again.
Constantly talking about death and dying can be depressing. But we need to talk about it. We need to share. I have discovered in these horrible fresh weeks that sharing photos and memories of my Mum via social media is very therapeutic and helpful in the mourning process. As a family we decided to announce Mum's funeral details online, as well as via a traditional death notice in the newspaper. I worry that I am becoming one of those 'over sharers' online, but an unexpected result was receiving heartfelt messages from old school friends who I hadn't seen in years, with memories they had of my Mum. I often think of the irony that Mum never used social media, but now this platform is helping me with my grief.
I over share Instagram photos of a gorgeous young Mum with a heart emoticon. I write blog posts on my emotional state. I wave to the Frankston and Peninsula Airport Shuttle Bus. I take photos of nasturtiums. I catch myself nearly buying the latest Women's Weekly at Woolworths to bring to my next visit to Mum. I walk up the Flinders Street Station steps and remember when my brother and I got separated from Mum that time. My heart aches when I see a mother and daughter on the street. I make sandwiches for my Dad with lettuce my Mum grew. I replay the two voicemail messages I have from Mum on my phone when I have had one too many beers on a Friday night. When I slept over at my Dad's place to keep him company, he told me he had a whiff of Mum's perfume at 3 am, then, a few minutes later, heard me talking and wailing in my sleep. I had dreamt Mum had come in to kiss me goodnight.
It's only been 12 weeks. I know the emotional rollercoaster will continue. Despite Dad and I going through the gut-wrenching experience of picking up Mum's ashes -- how can such an influential life be condensed into such a small box? -- I still feel like it's just at the Mum's-only-gone-on-a-long-overseas-holiday-and-will-be-back-soon stage. I am also more acutely aware that more people I love are going to die in the future. I want to be present and cherish time spent with every person I love. I want to care less about things of no consequence, such as crazy, work-colleague email etiquette. In recent weeks I've done a lot of plan cancelling with friends in favour of eating-Nutella-out-of-jar-on-the-couch nights. I struggle with wanting to embrace life's experiences and wanting to hide away, as I am so sad that I cannot share these times with my Mum.
How thankful I am to have siblings and a lovely, sweet Dad, my favourite people who help prop each other up, who help share memories of our lost maternal love. I want to send them birthday cards, cards for new jobs, and cards for everyday, any-day love.
With the $7.05 I found in beautiful Mum's wallet, I bought my eldest brother a card and a couple of scratchies for his recent birthday. He won $3. I know Mum would have loved that. And that makes me smile.