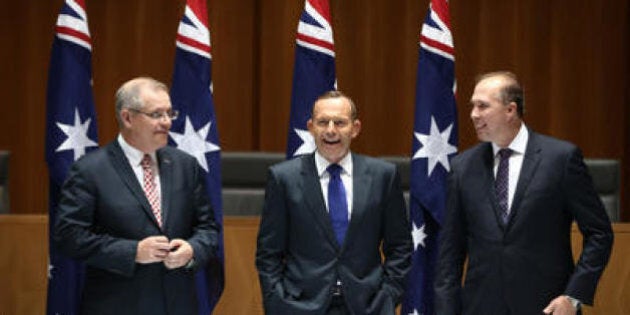 Deep within the corridors of power lies the office of the Department of Information, the Federal Government's messaging and communications team. Department head Mr Martin "Squidink" Farquar addresses his staff.
FARQUAR: In the wake of the drolly hashtagged #boomgate, I want you all to take in every detail of the apology that the Minister for Immigration made on Sky News. It is near perfect in its execution. It has been widely reported that Mr Dutton has apologised for the joke itself -- he didn't, which shows the skill behind the sleight-of-word here.
His performance is bookended beautifully. He opens by apologising for being unaware that a live mic was positioned behind "a private conversation", and so paints whoever listened in as an eavesdropper while still sounding contrite. Just lovely. Towards the end he apologises for distracting from the announcement of the Government's planned intake of Syrian refugees, and so leaves a key talking point fresh in the listener's mind as the statement wraps.
But most importantly, at no point does he apologise for the insult of "Cape York time", or for making light of the potentially devastating effect of climate change on our Pacific neighbours. He makes reference to this being a "light-hearted discussion with the PM" -- note the informal yet still respectful use of "PM" rather than the flippant "Tony" or the stuffy "the Prime Minister" -- thus not only is anyone listening an eavesdropper, they're an eavesdropper who can't take a joke. And yes, Willis, "light-headed" may have indeed been a more appropriate description, but it is exactly that sort of remark that causes those we are employed to shepherd to end up eaten by the wolves. Behave yourself.
This is textbook stuff, people -- I mean it, you should all have your copies of Sorry Seems to Be the Least Necessary Word, so turn to page three. "Never apologise for the offence you have given people, apologise to the people who have taken offence. This is the difference between admitting you cut someone and feeling bad that they picked up something sharp." This is the golden rule, follow it at all times.
Those of us who have been in the game for some time have spent years shaping public expectation to the point that they will accept "I'm sorry if you..." rather than "I'm sorry that I...". But where this apology is distinguished is in taking this tactic one step further: Mr Dutton said "If anyone has taken offence they should accept my apology." Not that he 'hopes they do', but that they 'should'. Considering Mr Dutton's... untidy performance of late, this can be masked as imprecise language when in fact it is the picture of precision.
As a result, Jenkins, you are to be congratulated both for this sentence and the crafting of the apology as a whole. It is one that the Department will use to train recruits for years to come. However, this brings your secondment to the Immigration Department to a close. Now I know that you were worried that success in this instance might result in your assignment to the Treasurer, but even we can recognise that not every vessel can be kept afloat. Willis, sniggering "Costa Concordia" is not helpful! One more quip like that and you'll be mucking out Mr Christensen's Twitter feed!
For all of you still on secondment to other offices, the more you can guide your MPs away from making off-the-cuff remarks -- or, even worse, "jokes" -- the less often you will have to retrieve them from a well-known creek. Jenkins, you are to resume crafting Mr Turnbull's victory speech. Everyone back to work.