The shop where Perth man Tony Overheu bought the lemon meringue pie he subsequently shoved in the face of Alan Joyce has sent him a replacement pie, in a tasteless PR stunt that looks set to backfire for the company.
The Cheesecake Shop sent the Qantas CEO an open letter -- which they also posted to their Facebook page on Thursday afternoon -- expressing their concern that "your recent tasting of our delicious Lemon Meringue Pie was not appreciated to its full sweetness".
"Now you've had a small taste of our traditional favourite featuring a rich and tangy lemon base crowned with super soft sweet meringue and valued at $26.95, we invite you to visit any one of our 203 stores and sample one at your leisure," the letter continued.
The letter, sent by the shop's Managing Director Ken Rosebery, also suggested the Qantas chief would enjoy "a generous serve of humble pie."
Here's the letter in full: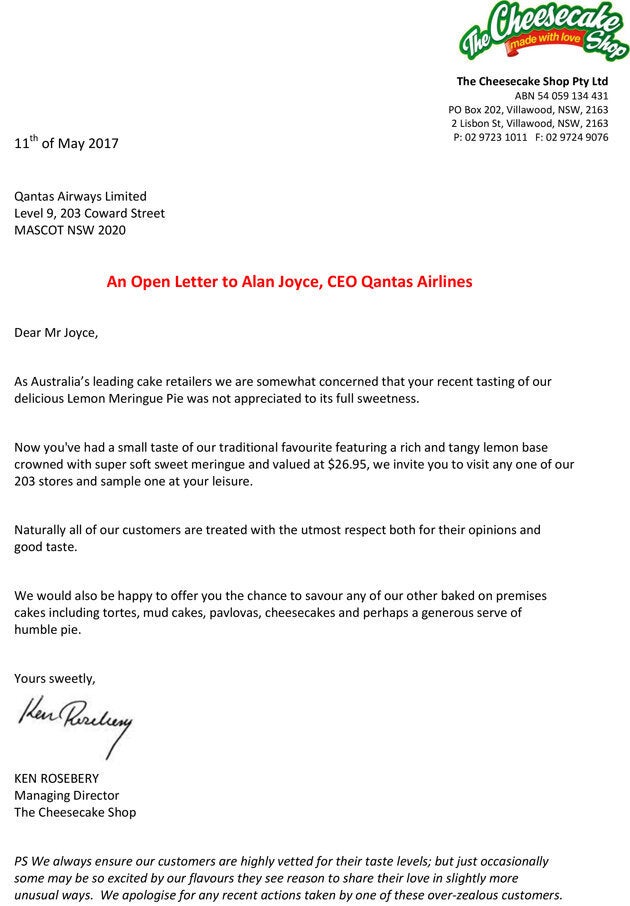 Joyce responded calmly at the time of the assault, excusing himself from the stage before returning and finishing his speech to a warm response from the crowd.
It has since emerged that the pie-thrower, a former farmer and church-going Christian, was motivated by Qantas' public stance in support of marriage equality.
Overheu told reporters that he chose lemon meringue pie because it "appeared to be the softest (and) least likely to do any injury".
The Cheesecake Shop, which has more than 200 franchises across Australia, said that Alan Joyce has yet to contact them in response to the letter, which they defended as a "a bit of fun".
"We're not taking a stance on any political issues," the company's Director Kathee Gunn told HuffPost Australia.
"We're aware that he (Tony Overheu) had a statement, but we're in no way supporting him or what his opinions were. This was really just a tongue-in-cheek response."
But the stunt has already met with some backslash on social media, with people commenting on the Facebook post describing it as "very disappointing" and a "bad PR strategy".
"I would much rather a witty statement that demonstrated your belief, as a company, in marriage equality and LGBTI rights. You know what makes a lemon meringue taste better -- eating it at marriage of a gay couple, or as a share plate at a LGBTI youth forum," Tara-Jade Dini-Brown wrote.
"Homophobia is not a joke," commented Mary Smithers.
One poster, Mark Calderwood, suggested that rather than "laughing at assault by a religious bigot", the company should have used the opportunity to come out in support of marriage equality.
The Cheesecake Shop's response to the incident appears to have stemmed from Alan Joyce joking comments to reporters following the pieing that he "didn't have a chance to taste it -- I think it was mostly on my glasses".
However, Joyce has also since announced that he intends to press charges against Overheu, saying that the attack has "reinvigorated" him in his fight to promote marriage equality.
"My intention is to send a message that this type of behaviour isn't acceptable," he told reporters on Wednesday.
"No attempt at bullying us into suppressing our voice will work."
"(The attack) has really encouraged me to continue to be out there and express my views even more strongly than I have done in the past."
Alan Joyce declined to comment when approached by HuffPost Australia.
Others have rallied in support of Joyce -- who publicly identifies as gay -- following the homophobic attack.
Father Rod Bower, who is well known for using his church noticeboards to make political comments, apologised on behalf of the Christian community with this response:
Some have taken the opportunity to raise awareness of the frequent abuse and bulling LGBTQ people face because of their sexuality:
ALSO ON HUFFPOST AUSTRALIA