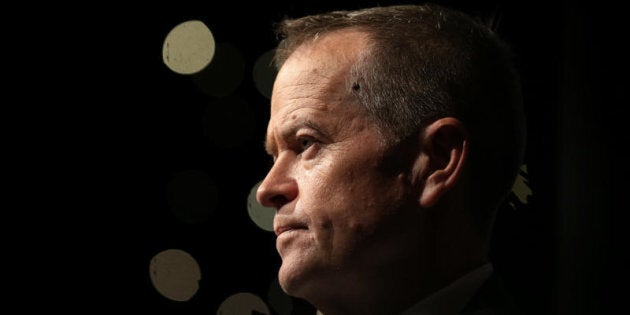 CANBERRA -- Labor Leader Bill Shorten is placing a left of centre marker in the sand ahead of the next federal election, declaring that tackling rising inequality will be a "defining mission" of a future Labor government.
In a major speech to be delivered Friday, excerpts of which have been seen by HuffPost Australia, the Opposition Leader borrows from the populist messages of the recently resurgent British Labour Leader Jeremy Corbyn and Bernie Sanders in the United States.
Shorten will tell the Melbourne Institute economic and social outlook conference that inequality is the biggest threat to Australia's health as an economy and cohesion as a society.
"Inequality kills hope," Shorten is expected to say.
"Inequality feeds the sense that the deck is stacked against ordinary people, that the fix is in and the deal is done. It fosters a sense of powerlessness that drives people away from the political mainstream and down the low road of blaming minorities and promising to turn back the clock.
"Inequality speaks for a fracturing in our nation."
Prime Minister Malcolm Turnbull recently indicated the next Federal Election would be held mid-2019, but it could be held as soon as late 2018.
Shorten is now attempting to step out as major party alternative on social justice issues.
"That's why tackling inequality will be a defining mission for a Shorten Labor government. This begins with taking responsibility, not hiding from it," Shorten will argue.
He breaks down where he sees inequality fracturing society and weakening Australia's prosperity; in wages and tax, job security and bargaining, education and healthcare, for women – in pay, leadership and superannuation and for home-buyers and renters.
Shorten talks of possible government intervention, but does not elaborate.
"I didn't run for parliament just to shrug my shoulders and say: 'Oh, the invisible hand will help you, the market will decide.' I believe there are things government can do – and should do," he is expected to say.
"I believe there are investments we have to make, reforms we have to drive."
What he does do is flag further, perhaps sweeping, tax reform, under a Shorten Labor Government.
"If we're going to fund vital investments for the future and keep the budget strong, we need to look at the old and growing faults in our tax system," he is expected to say.
"The whole picture: revenue and expenditure, including tax subsidies. Including reforms that in the past we might have dismissed as too politically difficult.
"I believe Australians are smart enough for that conversation. I think people are hungry for something more substantial than the current political fare.
"It's time to go to the too-hard basket in tax reform and re-examine the issues."
And in a barb aimed squarely at the current Liberal Party infighting, the Labor Leader takes aim at the politicians talking about themselves.
"While they watch this Prime Minister and his party spend days arguing with each other about what Robert Menzies meant in a speech he gave 75 years ago... Australians are left on their own, to worry about the basics," Shorten will say.
What the government is not noticing, according to Shorten, is that the system as it stands is "accelerating" inequality, rather than addressing it, "entrenching unfairness, rather than alleviating it".
In the Friday speech, the Labor Leader is promising to work with business to drive industry, "end the toxic politics" of climate change policy, put housing affordability "back in reach for working and middle class families" and invest in Medicare.
ALSO ON HUFFPOST AUSTRALIA