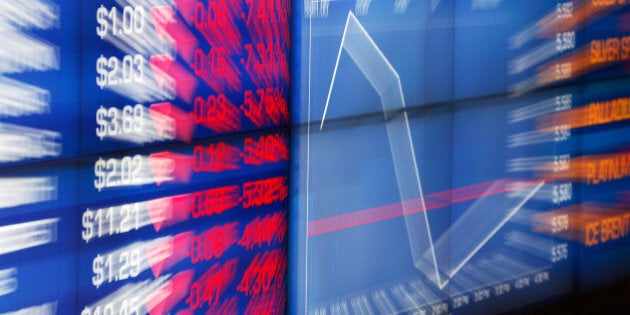 The Australian Share Market is caught in the middle of a financial tsunami.
For the past five years the market has been moving in a slow ascent, with only the top 20 stocks showing larger price gains. This came to a sudden end last week when China's stock market saw large unexpected declines and the flow-on effect to world markets has been significant.
Australia has been caught in the backwash.
On one side we have the US stock market coming to a screaming halt after six years of solid gains. Yet on the other side we have China, whose economic downturn is severely impacting Australia due to our massive reliance on iron ore and other exports. Many global investors have been concerned that Australia is too reliant on China, especially for its commodity exposure.
While Australia has been feeling the China slowdown for some time, the global threat of a full economic slowdown has started to gather pace in recent weeks, especially after the Yuan was allowed to devalue.
The threat of a China slowdown, an economy that has been a powerhouse over the last decade, has spooked global investors. After many years of central bank stimulus that doesn't seem to be working, the markets are becoming increasingly nervous and heading for safe havens.
On Monday the Shanghai Composite Index dropped 8 percent and sent other Asian markets, including Australia, into a tailspin. The Australian market had its biggest fall since the Global Financial Crisis.
The big end of town -- the financial sector, including the major four banks, which has been supporting the Australian stock market over the last few years, fell over 4 percent yesterday and is now 16 percent from its early 2015 highs. Another down week, which looks highly likely, will place the Australian stock market into an official bear market.
The contagion spread to Europe and then to the US. Most European markets closed 5 percent lower and traded lower as the US opened. The Dow Jones opened 1000 point lower -- its largest down opening ever, although it tried its best to recover, eventually closing 3.6 percent lower.
It is highly likely the current volatility will stay for a few weeks and more than likely lead to further declines across global markets.
Market volatility is normal. It's these periods of extreme negative sentiment that allows prudent and patient investors to buy good quality companies at sale prices. However, with the clarity of China's economic situation still muddied, a wait-and-see approach would be wise, at least until some normalcy returns.
Many Australian stocks provide strong dividend income and during the current low interest rate environment these will still be in demand, especially as prices slide.
I expect the Australian market to return to the levels we saw in 2011 but it's highly unlikely that we will fall as low as the levels of 2009. Despite the current tsunami, the long-term outlook remains very positive.