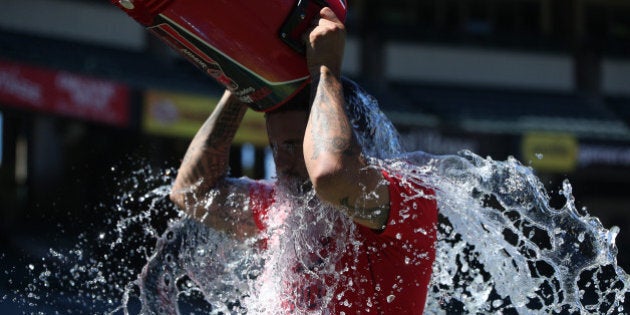 I once started a bowling team. I printed t-shirts, recruited a partner and marked the date of our debut in my phone. We never bowled. When my Mum says -- between stifled laughs -- "Like the time you started the bowling team?" I rise in defence. Hey -- I've got the t-shirt!
I get it. Enamored with the process of joining a side, and the idea of participation, my good intentions were discarded, like that t-shirt, when I moved on to the next thing.
This is the methodology behind clicktivism that social commentators are warning us of; following social media causes where the participation begins, and ends, with one click.
Does social media activism engineer a culture of 'click here and my work is done'?
Proponents of clicktivism believe it's a cathartic experience for the user, which creates awareness powerful enough to enact real-world change. Opponents view it as nothing more than mindless mouse-clicking, an artificial, faddish commitment to a cause with no follow-through.
Micah White PhD considers clicktivism 'the Walmart of activism'. Writing for The Guardian White said: "Gone is faith in the power of ideas, of the poetry of deeds, to enact social change. Instead, subject lines are A/B tested and messages vetted for widest appeal... In promoting the illusion that surfing the web can change the world, clicktivism is to activism as McDonalds is to a slow-cooked meal. It may look like food, but the life-giving nutrients are long gone."
In 2013, SBS ran this article which implied that participation served the user, not the cause. "That warm, fuzzy feeling that your Facebook friends can see you stand for something, that you're drawing attention to big issues. But no - it doesn't really work that way," wrote Andy Park.
Kate White from the University of British Columbia agreed: "When the small act of token support is very public in nature and people can kind of signal to others that they have already helped the cause they actually aren't more likely to help later."
The Ice Bucket Challenge is a case study in clicktivism that satisfies both sides of the argument. In 2014 there was no escaping videos and images of drenched celebrities (Four words: Matt Damon; toilet water) all in the name of raising millions, and awareness for Amyotrophic Lateral Sclerosis (also known as Lou Gherig's disease). The campaign enjoyed more than its 15 minutes of fame, securing unparalleled social media engagement, and much-needed money.
But figures prove we're over the bucket, perhaps busying ourselves with the next cause. Or, maybe because our intentions weren't as charitable to start with, the title of Erica Buist's Guardian piece says it all, 'Pass me the ice bucket, this self-promotion makes me sick.'
Clicktivism isn't a long-term solution, it's just a good way to start the conversation. Sometimes good ole' fashioned time, money and boots-on-the-ground petitioning is the way to confront the big issues. And sometimes wearing the t-shirt is enough to satisfy our need for action.