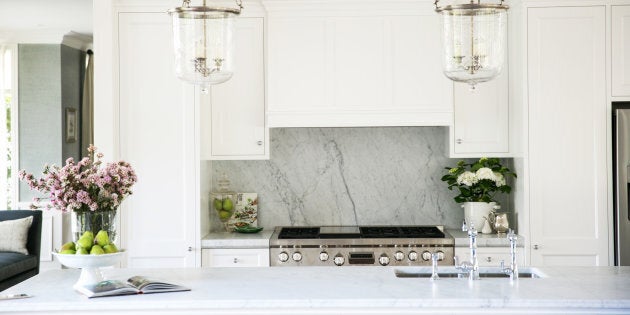 Who else scrolls through Pinterest, creating dream boards of all your favourite kitchens, dining rooms, bedrooms and bathrooms? Whether they come to fruition or not is beside the point -- either way, you have the perfect home pictured in your mind.
As with fashion, interior trends change, so what you like the look of will most likely alter as new colour palettes, hardware, appliances and shelving trends emerge.
If you're wondering which kitchen and dining room trends we'll be seeing and Pinning in 2018, interior designers Judy Elliott and Jess Bandiera from Verandah House are here to help.
"Kitchens today are the centrepieces of our homes. They're no longer designed as just functional spaces, and we are now designing them with creative flair and treating the joinery more like custom pieces of furniture," Bandiera told HuffPost Australia.
"We are taking the hardware as seriously as we do the appliances. We are adding personality back -- the minimalist look of the past is being replaced with character-filled kitchens in our homes."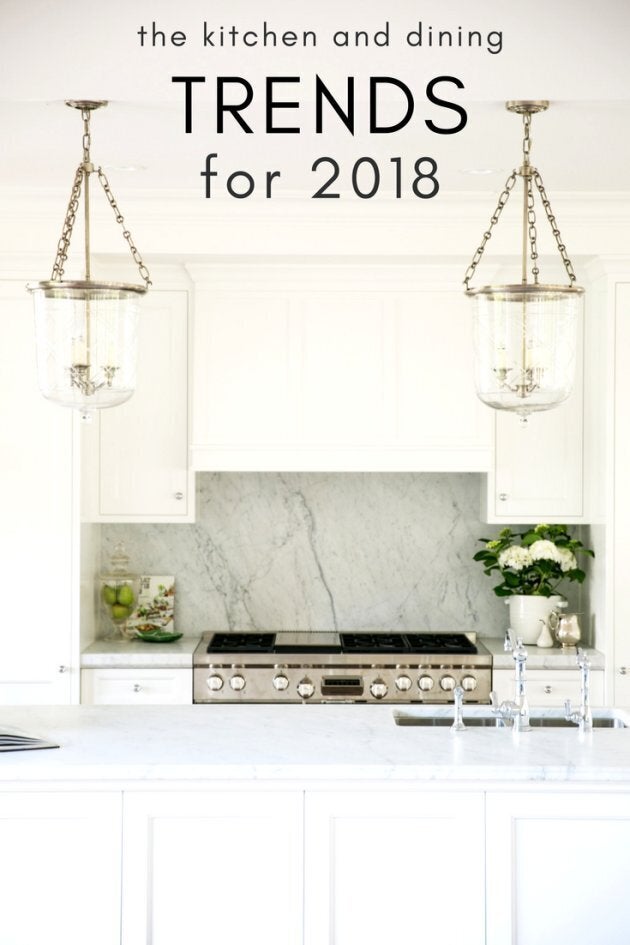 Kitchen joinery
"Natural oak timbers have resurged back into our kitchen joinery and that's an exciting trend we've started to implement into our designs," Elliott told HuffPost Australia.
"We're not just talking timber on the external cupboards, but on the inside of the cupboards too. Kitchen designers such as deVOL Kitchens, Humphrey Munson and Plain English Design have been mixing up hand-painted kitchens with timber down to fine art."
Tapware and joinery hardware
"Brass tapware and joinery hardware is still going strong, but the classic polished chrome finish is still as popular today as it was a decade ago," Bandiera said.
"Upgrading your joinery hardware will instantly update the look and feel of your kitchen. Go for either chrome, matte black or brass pulls or knobs."
Colour palette
If you're wanting to refresh your kitchen and dining room colour palette, try shades of blue, moss or sage green, or neutral tones.
"All shades of blue, especially navy, is a hot trend that doesn't seem to be losing its charm," Bandiera said.
"Our favourite way of using colour is on island benches and under bench cupboards, and keeping the overhead cupboards white. This gives colour and impact without feeling too dominant.
"Other colour trends in kitchens that we can't get enough of is moss and sage green. I think we are going to see a lot more of this colour in 2018."
But don't worry if you prefer more neutral, soft tones.
"While colour is definitely a strong influence, so are neutral tones. Grey is popular but we are starting to see it being replaced with the colour greige, a softer grey with a dose of taupe added to the mix."
Lighting
Pendant lights can add warmth, mood and focus to kitchens and dining rooms, and are available at affordable prices.
"Create a focal point for your kitchen by adding feature pendant lights. Choose lighting that compliments your hardware in either hand blown glass, matte black, chrome or brass finishes," Bandiera said.
"Try adding wall sconces above open shelves to provide a lovely ambient effect and designer look."
Shelving
When it comes to shelving trends, Bandiera recommends adding storage and charm with open shelves.
"Rather than cluttering your cupboards and pantry, invest in some glass jars and pull out your cookbooks, favourite crockery and add some potted herbs to display on open shelving. This is a cost effective option that will create impact and a homely feel."
Appliances
While bold-coloured and matte pastel appliances are in vogue at the moment, if you don't want to replace your appliances often, Bandiera recommends sticking to classic colours.
"Appliances are no longer just stainless steel. While bold-coloured appliances are all over our Pinterest boards, we are still strong advocates for timeless colour. After all, appliances are a big investment and not so easy to replace when trends change," Bandiera said.
Details
Hand-painted coloured joinery to showcase your dinnerware, a bar cart and statement hand-painted wallpaper are all ways to add detail to kitchens and dining rooms. If these aren't in your budget, fresh flowers and herbs, wooden chopping boards and candles are great options.
"The return of the bar has been a welcomed addition to our dining rooms," Elliott said. "A bar cart can add charisma and ambience to your dining room. These days bar carts are used for all purposes. Try mixing your favourite spirits with décor books and candles, and also use as a serving tray when entertaining.
"Our favourite look is adding Gracie hand-painted wallpaper to our dining room walls, either framed as panels or the complete room. Wall panelling and wall art are hot looks we are seeing at the moment. Fresh flowers and candles are a must."
"The most inexpensive way to dress up your kitchen is to prop up a few wooden chopping boards on your bench top. Group your everyday pieces in a rattan tray and add potted herbs to your bench top," Bandiera added.
What to avoid
Although kitchen and dining room trends are moving away from minimalism, Bandiera suggests sticking to the 'less is more' rule when it comes to the appliances and utensils in the kitchen.
"If you have appliances on display, only display the absolute necessities and try to coordinate these in with your décor," Bandiera said. "Don't spread your daily utensils and condiments all over the bench. Group them in a tray and add canisters.
"Also, a big 'no' to mirror or glass splashbacks. Instead replace with a classic subway tile."
Dining rooms, on the other hand, should radiate warmth and openness by way of candles, trays, flowers and plants.
"Don't make your dining table look sterile and empty -- style it with placemats, candles, a potted orchid or fern to give it life."