Prime Minister Malcolm Turnbull is right. The elevation of Susan Kiefel as the first female Chief Justice of the High Court in its 113 year history is an inspiration to young women.
But what he didn't mention is that the legal profession is one of the least friendly industries for women in the country with a massive gender pay gap, inflexible workplaces and a massive dearth of women in senior roles.
And while the the trend of women becoming judges is improving, the legal profession is having trouble retaining its female talent.
Keifel, who once reportedly described herself as "a lonely tree" in a sea of men, is one of 56 women and 100 male Commonwealth judges and justices in the High Court, Federal Court, Family Court and Federal Circuit Court.
Turnbull hailed Keifel's appointment as a game-changer for young women in law who could aspire to her success. "They can follow in Susan Kiefel's footsteps, study well, get admitted, become the chief justice of Australia," he said.
But a study by the Law Council of Australia showed what those "footsteps" involve: that while 63 percent of lawyers admitted to the profession in 2014 were women, only 10 percent occupied senior appointments -- and that half of female lawyers who work part-time reported discrimination due to family responsibilities.
Workplace Gender Equality Agency (WEGA) Director Libby Lyons praised Keifel's appointment as a "sign of better things to come". But she fears that law firms have let to reconcile their work culture with family responsibility, as well as the "billable hours" business model that forces people to pull longer hours.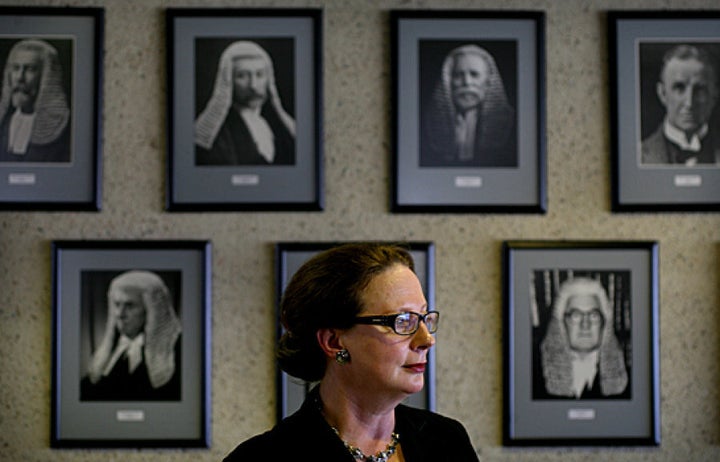 "If you want to attract and retain the best, you can't exclude 50 percent of the population," Lyons said.
She characterised it as a brain drain from the legal services profession law firms will need to address to remain competitive.
"Because we are seeing more and more young women in particular and women in general move away from the legal professions and move into roles in corporate legal departments, the public sector or change career all together," she said.
"We are seeing a brain drain."
Australian Women Lawyers President Ann-Maree David said the persistent inequality in the profession, the gender pay gap and the slow rate of progress in the appointment of women to senior positions in both private practice and to the judiciary needed to be redressed.
"The appointment of Justice Susan Kiefel as Chief Justice of the High Court of Australia gives us confidence that times are changing," she said in a statement.
Neither Australian Women Lawyers nor the public they serve will wait another 113 years to achieve equality in all regardsAnn-Maree David
The Law Council of Australia has instituted an Equitable Briefing Policy as one way of improving the retention of women barristers within the profession.
One study produced by the Law Council in 2013 showed just 16 percent of women practising at the time indicated they would consider working at the Bar, while one in three were considering moving to a new job within the next five years.
The policy's aim is that by 2020 women are briefed in at least 30 percent of all briefs and receive at least 30 percent of the value of all brief fees, in accordance with international benchmarks.
Keifel is part of a trend, Australian Bureau of Statistics data shows: the proportion of female Commonwealth judges and justices is steadily increasing, rising from 24 percent to 36 percent over the last ten years.
Despite making up 69.8 percent of employees in the legal services industry, women account for just 5.8 percent of profession's CEOs, the latest data from the Workplace Gender Equality Agency (WEGA) shows.
When it comes to the courts, the genderdifference is lowest in the Family court -- 54 percent male and 46 percent female -- while male Federal Court judges and justices outnumber female judges and justices by three to one (75 percent male to 25 percent female).
WGEA Gender Scorecard On The Legal Services Profession

Legal Services has 28,686 employees within 68 organisations. 69.8% of employees are female.
There is a 30.5 percent total-remuneration gender pay gap between the sexes, above the national average gender pay gap is at 23.1 percent.
Women fair slightly better in the key management personnel and executive manager sections of the WGEA survey, accounting for 33.9 percent and 45.8 percent respectively.
But there is also a 10.7 percent pay gap between men and women in key management personnel, and a gap of 20.5 percent gap in the executive manager component.
The genderdifference was similar in state courts, with 133 male and 39 female State Supreme Court/Court of Appeal justices and judges (77 percent and 23 percent respectively).