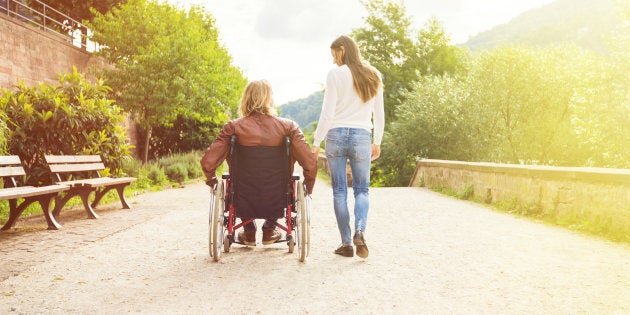 Today is World MS Day, and it provides an opportunity to shine the light on the realities of living with Multiple Sclerosis. More importantly, the day is about engaging in conversations, sharing ideas that help those living with MS and other chronic illnesses, to live life well.
More than 23,000 Australians and more than 2 million people worldwide are living with MS. It's a disease of the central nervous system where the immune system attacks the myelin sheath (the nerve coating) interfering with messages from the brain, causing a range of symptoms.
I know firsthand how the diagnosis of this disease catapults you into a new world. I was diagnosed with MS as a healthy 22 year old back in 1997.
Early on I experienced increasingly frequent and aggressive relapses, where my symptoms became worse and required medical treatment. Many times I was confined to a wheelchair, then confronted with the daunting task of learning to walk again (and again and again).
I've experienced difficulties with my vision -- opening my eyes one morning to a blurred world. Also hands that became dysfunctional, thus requiring assistance for basic functioning. Then there are the constant and often invisible symptoms to be deal with -- fatigue, pain, numbness, hypersensitivity and poor balance.
When I was diagnosed with MS there was only one disease-modifying drug available. Now there are many options.
When living with the challenges of any chronic illness, you inevitably begin to feel like you are your disease, defined by your symptoms, and fixated on all that is wrong. And it's difficult to find any joy in the now when you a constantly reminded of an unknown future. For those with MS, it is the fear of being confined to a wheelchair, or the loss of independence and relying on others for care.
Somehow you do need to discover ways to move forward, and ultimately live beyond the challenges and frustrations of an illness. And after travelling and living overseas, but also reading the experiences of others living with MS around the world, I realised how moving forward is made easier by living in Australia.
Even though there are definite shortfalls with our public health system, if a significant relapse does occur, we can access treatment and the expertise of neurologists to restore functioning. Then there are rehab facilities with allied health professionals trained in neurological conditions and working with patients to maximise their functioning.
There is also MS research focusing on prevention, better treatments and ultimately a cure. And this work does make a difference. When I was diagnosed with MS there was only one disease-modifying drug available. Now there are many options.
But as I've discovered living well with MS requires more than reacting to relapses and medical intervention. This is why I am also fortunate living in Australia, with the recent announcement that the NDIS will be fully funded. This is one way that people living with chronic illnesses and disabilities can be proactive in sustaining their overall wellbeing.
I've recognised that my response to MS will define my life experience. I can either be consumed with how MS makes life difficult, or I can channel my energy into creating a life that is conducive to my overall wellbeing. I've made significant life changes, from my career to where I live, to ensure that I live well. I've also explored and embraced a range of natural therapies.
Yet unfortunately, despite the commitment of individuals to move forward and live well with their condition, these attempts are often thwarted. As within our community there is often a reluctance to embrace diversity. For example as I shared last year, this can be difficulties in securing employment when you have a disability, or even negotiating flexible working arrangements. And outside of workplaces there are also barriers -- such as overcrowded public transport systems and the lack of disabled car spaces which make going out difficult for those struggling with mobility.
I face the challenges of MS every day. And living in Australia is a blessing with the access to medical intervention, the benefits of research and now the rollout of the NDIS. But as I continue on my quest to live well, I hope we can be more active in starting conversations around embracing diversity. As more inclusive communities will make the journey with MS and other chronic conditions and disabilities a little easier.
ALSO ON HUFFPOST AUSTRALIA