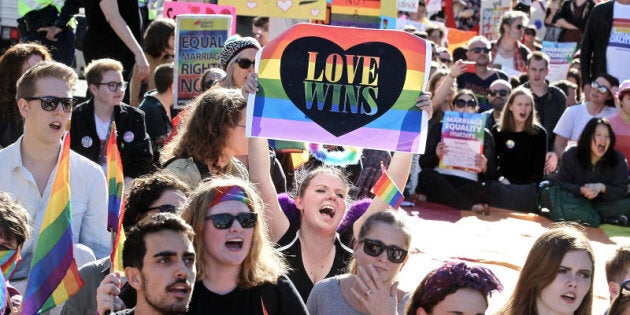 CANBERRA -- Students and universities have joined forces over the marriage equality postal survey to create the "biggest youth voter drive" in decades and are "very, very confident" a lot of the new voter enrolments are young people more likely to vote "yes".
With two days left to enrol with the Australian Electoral Commission (AEC) or fix details, the National Union of Students (NUS) has revealed almost a million students (973,690) have received emails from "almost every single university" urging them to update their details.
It is hard to say how many students have followed through, but NUS President Sophie Johnston expects a significant result, which will aid the "yes" vote.
"Young Australians hold a lot of power in the political scene," Johnston told HuffPost Australia, adding the push from universities and students was "the biggest youth voter drive we have seen in decades".
"Over the past two weeks, especially the NUS along with other organisations, have been working specifically with young people to make sure they are enrolled and they get out and vote yes for marriage equality."
According to the AEC, there were 811,000 "missing" Australian electors at the June 30, 279,000 of them were aged 18-24.
"Now it is about making them get out and make their voices heard on the issue," she said, admitting that young people have need a push.
"A lot of people are disenfranchised with politics, and especially with students, they are moving houses, moving address, changing location. They fact that this is a postal vote means that a lot of postal ballots could go missing."
It isn't just via email. Student reps have been running enrolment stalls and BBQs on campuses and claim to have enrolled thousands of students on the spot.
But a big push from both the "yes" and "no" camps has paid dividends.
Between August 8 and 20, the AEC has revealed there have been 36,769 new enrolments and 434,026 enrolment update transactions have been processed.
"We are very, very confident a lot of those people are students or are young people," Johnston told HuffPost Australia.
There is still time. Additions and changes need to be done by the close of business on Thursday, August 24. It takes several minutes to add yourself to the electoral role, check your details and update.