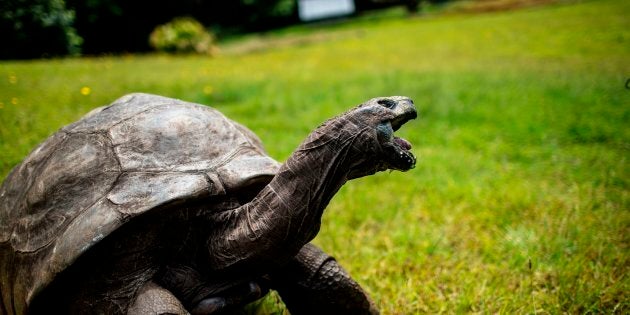 Jonathan, a 186-year-old Seychelles giant tortoise, met the love of his life way back in 1991.
His carers decided he needed a special someone after the active 150-ish-year-old became irritable and difficult to deal with.
The tortoise partner they introduced him to worked wonders. Jonathan and his partner enjoyed doing almost everything together -- sleeping, eating, and their frequent mating sessions.
For years though, Jonathan's owners had been confused as to why the two -- her name was Frederica -- weren't producing any offspring.
But one day when Frederica required medical care for a lesion on her shell, they realised the reason why. Frederica was male.
That's how it was recently discovered that Jonathan, probably the oldest known living creature, was a little bit gay.
What's even sweeter -- in a St Helena Government press release it was noted that "Jonathan came over and would not leave our side the whole way through" the treatment of his companion.
Jonathan was given as a gift to the remote island of St Helena back in the 1882, along with three other tortoises. While he has since lost his sense of smell and capacity to see, Jonathan retains good hearing.
The exact date of his birth is unknown, but a photograph of Jonathan taken around 1886 suggests that he is around 185 years old.
The news comes as St Helena, a tropical island in the South Atlantic Ocean off the coast of Africa, faces a debate on legalising same-sex marriage. The tiny British territory which is one of the most remote islands in the world has a population of just 4,534. The Legislative Council is currently taking submissions on the matter, and a full Supreme Court hearing will most likely occur in January of next year.