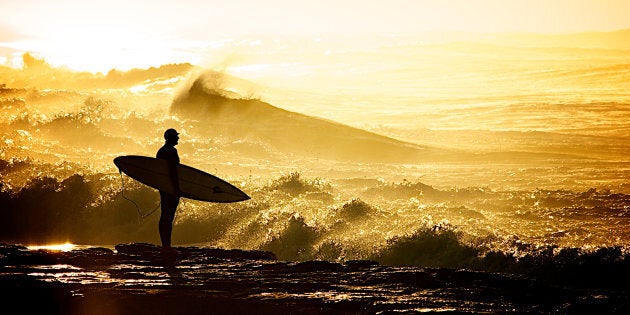 There has been a spate of shark bites and shark bite fatalities across the globe recently, with many people suggesting ways to reduce these and often looking at governments to implement a strategy.
When it comes to shark bites, there are two main players; the shark and the human. Why sharks bite people is still a matter of conjecture. Some say it's because we look like seals; but this can't be for all cases such as bites on swimmers and paddlers. But while scientists attempt to answer this question, we need to look at the role humans are playing.
On Saturday April 29, two people were bitten by sharks, one fatal off the French island of La Reunion at Pointe au Sel, the other at Plettenberg Bay in South Africa. Both bites were completely avoidable. In the case of Reunion, the Pointe au Sel is banned to marine activities, while the National Sea Rescue Institute, local media and the nearby Shark Spotters program informed ocean users white sharks were clustering at Plettenberg Bay to take advantage of naturally occurring pray such as fish and seals at least 10 hours before the shark bite occurred. Regardless of the bans and reports, both individuals decided to go into the surf at these locations.
It could be argued that the beach-goers were not aware of the bans and reports; but while Governments, organisations and individuals globally scramble to do what they can to reduce the low risk of shark bites, they can only do so much.
Measures are being put in place to reduce shark bites globally, taking advantage of new technologies such as the reach and speed of social media as well as devices such as electrical deterrents such as the Shark Shield, proven to reduce shark bite risk, yet they are slow to be picked up.
In a recent Federal Senate Inquiry in Australia, the Managing Director of Shark Shield, Lindsay Lyon advised that in the 20 years of operation, approximately 35,000 to 40,000 Shark Shields (mainly pitched to the scuba diving community) had been sold worldwide, despite extensive scientific testing and peer reviews. Surfers and scuba divers spend thousands of dollars on their equipment, yet very few are investing in this technology, proven to save lives. In fact only 500 to 600 surfers have invested in the newer surfboard technology recently made available by Shark Shield.
Additionally, very few ocean users are carrying with them medical kits specifically designed for aquatic trauma such as a shark bite, despite them being publicly available and only costing around $60, like this one by TacMed Australia.
Surfers and scuba divers are known globally to check weather and swell reports before heading out, yet are generally still not logging on to reports of shark activity. In Australia, applications that report on shark activity are still only reaching tens of thousands of people. Media reports continue to identify survivors of shark bites and friends/family of people killed by sharks saying they weren't aware of shark activity in the area previously.
As humans, we generally are not doing enough to keep ourselves safe from shark bites. While the risk is low, a fatality could be avoided by heeding to warnings and beach bans and taking advantage of devices proven to reduce the risk. After all, a seat belt may not always prevent a fatality, but it could save your life.
What else can we do?
The anti-shark sentiment following on from a shark bite will often see people call for a shark cull. La Reunion is a case in point. Between September 2011 and October 2016, 178 sharks were culled (83 bull sharks and 95 tiger sharks) in attempt to reduce shark bites. The most recent bite at Pointe au Sel has brought the figures up to 21 shark bites, nine fatal, in the past six years. Shark culling isn't working.
One reason why bull sharks (a non-native species) have moved into Reunion's waters is because the reef sharks that competed with them for food were killed by local fishermen. In 2011, when the French government hired a team of freedivers to investigate the situation, the team found that the main shark population were circulating garbage on the seafloor near marinas and harbours where food, garbage and fish guts were thrown overboard from boats.
Reunion's issue is an utterly unbalanced marine ecosystem, with the prevalence of fish farms mixed with run-off pollution and the dumping of garbage, sewage, fish waste and animal offal as well as overfishing occurring to the point of collapse.
Cleaning up the garbage, mitigating runoff, allowing fish stocks to recover, avoiding surfing at the most dangerous areas (even when the surf is pumping), and being aware of shark attractants such as salmon runs and the presence of bait balls, as well as murky muddy waters, would all help to lower the risk of shark bites.
Nobody wants to tell someone they can't go out surfing, bodyboarding, diving or swimming because they might get bitten. But in the end it is the individual's responsibility to protect themselves as much as possible -- not government's. And that is exactly the culture the new Labor Western Australian Government will create by subsidising the Shark Shield. The finger pointing at sharks and governments needs to turn towards ourselves. Because no one should want a sharkless, algae-ridden, trash filled, dead ocean either. Healthy oceans need sharks and we need healthy oceans.
ALSO ON HUFFPOST AUSTRALIA