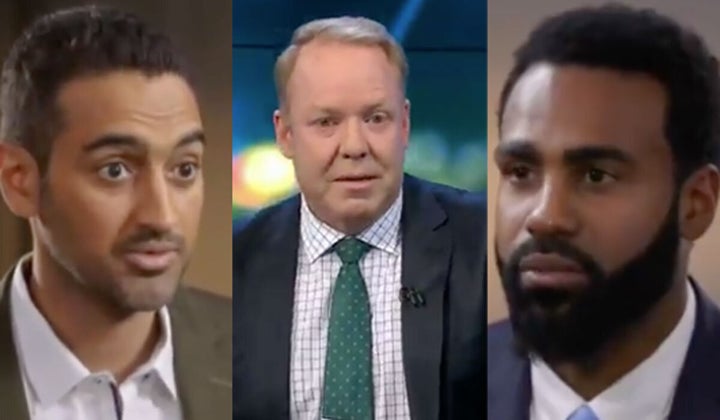 There are growing calls for 'The Project' and its presenters Waleed Aly and Peter Helliar to apologise on-air over the show's 2017 coverage of Heriter Lumumba's racism allegations at Collingwood - including when Helliar claimed it sounded like Lumumba was "smearing an entire club."
An independent review this week found "systemic" racism within the Magpies and called for the problem to be addressed. The investigation was prompted by Lumumba, who said he endured a "culture of racist jokes" while playing 199 games for the club from 2005-14.
Collingwood's president Eddie McGuire on Tuesday was forced to backtrack on comments describing the report's release as "an historic and proud day" for the Magpies, despite the review finding racism had resulted in "profound and enduring harm to First Nations and African players."
Lumumba, who said Collingwood's response showed the club did not accept the findings of the report, also took aim at 'The Project', which has been widely criticised over its coverage of Lumumba's claims, which included an interview between the former defender and Aly.
He said on Tuesday: "So The Project sent me a request to be on their program. I considered it for a moment, then remembered what happened in 2017."
The controversial segment, which has been widely shared on social media since the report's release, has been condemned for "discrediting" and "gaslighting" Lumumba.
Gaslighting is a term for a situation where one party psychologically manipulates the other, making them doubt their own version of events, or even their own sanity.
In a thread of 25 tweets from July last year, Melbourne-based comic Aamer Rahman dissected the 2017 segment that "undermined" Lumumba's experiences, left important details out of the final edit and echoed Collingwood's PR messages that tried to disprove Lumumba's story.
Rahman, who was in the room when Aly interviewed Lumumba in 2017, said it was a "gruelling" 90-minute "circular cross-examination" with Aly pushing Lumumba on why more players haven't admitted to calling him the racist nicknames "slave" and "chimp".
Twitter users criticised the "hard to watch" interview between Aly and Lumumba as a "vicious smear" and accused Aly of "attacking a victim's credibility by supporting the abusers".
Many viewers want 'The Project', the presenters and the producers to acknowledge the report and or be sacked.
In the editorialising of Lumumba's allegations after the interview, Helliar questioned Lumumba's claims and said it sounded like he was "smearing an entire club."
"My only thing, it would be really helpful if we heard more detail, specifically with the nickname," he said at the panel.
"We can't find anyone who would speak to us who knew of that nickname over a playing career of 10 years.
"Even if you have to name names take us into your experience. Paint the picture so we understand it more. Because if you don't do that, then it just sounds like you're smearing an entire club."
Aly then corrected himself and Helliar, admitting on the panel Andrew Krakouer had confirmed the "Chimp" nickname, but then dismissed Krakouer as a "rare person". Krakouer is a First Nations man.
Watch the full segment here:
Former Socceroo Francis Awaritefe said on Tuesday the coverage was "unconscionable".
On Tuesday Helliar, who has worked with Collingwood as its 'Strauchanie' character, tweeted an apology to Lumumba, saying: "I should have believed you. I will do better."
However, Helliar, who according to presenters was unavailable for last night's show, was criticised for not making an on-air apology, while hundreds of others joined calls for Aly and 'The Project' to address the segment during the show:
HuffPost Australia has reached out to 'The Project' for comment.