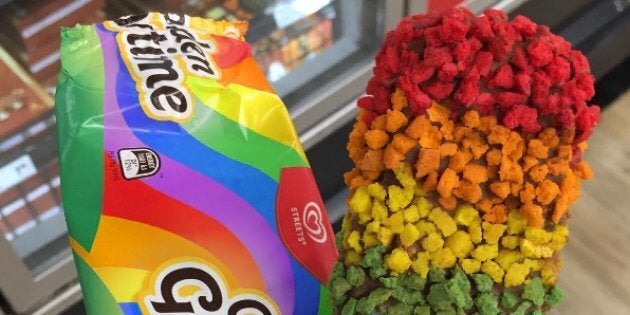 Stop everything: the Rainbow Golden Gaytime ice-cream now exists.
It's brought to you from the guy who introduced Australia to the 1.25L Golden Gaytime ice-cream tubs and the Gaynetto.
He doesn't work for Streets, the Australian ice-cream producer behind the original Golden Gaytime products, but the new spin-off of the Aussie classic has still got ice-cream enthusiasts going wild.
And the best part? It's all in the name of equality.
"This is the first thing I've done campaigning-wise. I also think it's a bit of fun and it's also to connect with Mardi Gras," Jesse McElroy, the creator of the Rainbow Golden Gaytime, told The Huffington Post Australia.
"It means quite a lot to me, everybody should have the right to be equal.
"It's ridiculous that in 2017 we haven't ratified that yet, it's one of those stupid archaic laws like those that wouldn't let woman or Indigenous people to vote back in the day, it just seems silly."
McElroy told HuffPost Australia the majority of the reaction so far to the creation has been positive, and that he believes it could be a conversation-starter to normalise equality and same-sex marriage in Australia.
"Ninety-nine per cent of the reaction has been positive. There is a minority that doesn't like it, it's a vocal minority and while most people just love it, people that don't like it are quite vocal and they'll let you know through different channels," he said.
"I'm just seeing how the conversation goes with people... It was more of a conversation starter to see where my audience on Facebook and Instagram would see things.
"That minimal amount of messaging has certainly flared up a lot of emotion on both sides of the line. I think this is good because people talk about it and see it and normalise it, which is awesome because there's a lot of things we just don't normalise. I think normalising anything like that on various products is good because people get used to it and it's not a big deal."
McElroy also said part of the feedback from followers of his creations has included individuals who don't see the need to politicise products like the Gaytime brand.
"A lot of people don't want to politicise things, which I do value because you just want to have a relaxing time and not worry about where you stand on certain issues," he said.
"I think that the Rainbow Gaytime is a normalising technique, but I don't think it's a very powerful message and that's where it should stand."
While the creation is not in mass-production as yet, McElroy said he does plan to take it to Streets, the Australian ice-cream producer behind the original Golden Gaytime products, but may need to change the design to make it possible for factory production.
"I'll take the idea further, I'm all for equality. I want to see how this goes," he said.
"I think I will take feedback about how hard the process is to make that pattern, I think I'll come up with another version that is just the multi-coloured crumb, rather than banded lines".
"I've enjoyed working on Golden Gaytime which I think is an awesome product and I've had a lot of fun with it and the community on my Facebook and Instagram have been awesome working with ideas and brainstorming and getting their input as a community which is kind of nice because its varied and diverse."