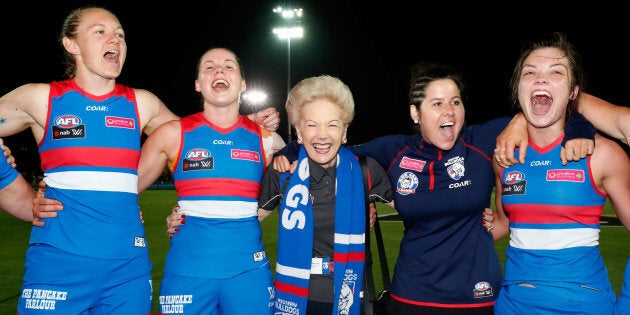 "Daughters of the west" instead of "Sons of the west". It's the simplest lyrical change to a team song, but one we all needed to hear.
Western Bulldogs AFL Women's players have been substituting the word "daughters" for "sons" in the team song since at least June last year. Here's just one example.
Even though the women were doing their own thing vocally, the official club song played as the Bulldogs AFL Women's team ran onfield was still the song written for the blokes -- a song which was sung with great gusto after the Bulldogs won the fellas' AFL last season.
You'll excuse us on this rare occasion for throwing in a bloke vid in a women's sports story.
Meanwhile, you'll definitely get the chance to hear the song this Friday night when the Bulldogs run onto the field at the club's spiritual home, Whitten Oval, from 7:35 pm. They're hosting the Adelaide Crows, in the only AFL Women's round two match between first-round winners. Should be a beauty.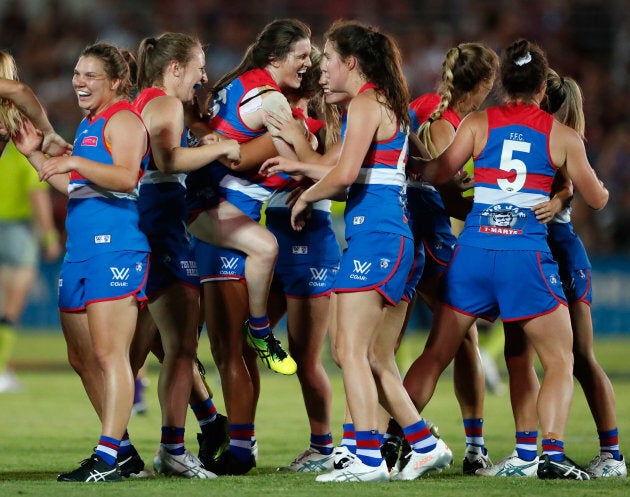 And with any luck (sorry, Adelaide) you'll get your chance to hear the song sung twice -- once at the start and once when the Doggies win.
In other matches this weekend, impressive round one winners Carlton host GWS, Collingwood host Melbourne, and the Freo Dockers host the Brisbane Lions in a match necessitating the longest mainland flight between two Australian mainland capitals.