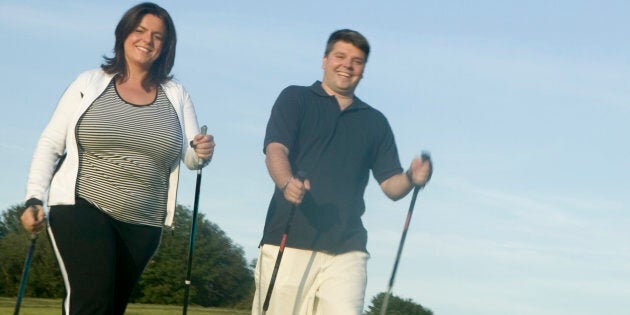 If you're feeling flat from the flu or finding it tough to thrive, you're not alone. Over a million Aussies not only endure the flu but could suffer serious complications due to an existing chronic disease.
Most Australians have obesity, mental illness, diabetes, cancer or heart disease. But public health officials admit that nothing they've done so far has helped stem the tide of these chronic diseases, particularly obesity. The World Health Organisation calls it a global epidemic.
It's a complex issue. But a key factor stopping most of us from being healthy is that it takes extraordinary discipline to do stuff that hurts (exercise) and eat less (willpower in the face of addictive substances).
When most people think fitness, they think pain. Like quitting smoking, exercising regularly is really hard to do. We know it's good for us but we just can't make it a daily habit because we're too busy or just too tired.
Last year's National Health Survey, which slipped past most of us as we guzzled Christmas champagne, found that 15 million Aussies are overweight or obese, while rates of stress and mental illness are not improving. Doctors, health educators, scientists, gyms, fitness bloggers and celebrity fitness gurus just can't fix us.
So we need to fix ourselves.
Some doctors are now advocating Lifestyle Medicine as a solution to chronic disease. But how do we force ourselves to take our medicine? How can we motivate ourselves to get and keep healthy habits?
One option is to make moving more fun. Studies show that most people think exercise is painful, time consuming torture, best left for gym junkies.
But when people walk they start to feel better. This can encourage them to eat better. But it works best when they find a healthy tribe to support their new healthy habits. And if the exercise has a purpose or an adventurous element it's even better.
Hippocrates, the father of modern medicine, said "Walking is man's best medicine". Most of us see walking as a means to an end and definitely not a cure for obesity. But it's now scientifically proven by thousands of studies that walking in nature is a big fat health pill.
The Federal Government's Australian Physical Activity Guidelines recommend puffing moderately for five hours and two strength activities a week. For most people, this amount of physical activity is not only difficult, it's impossible; it's not only scary, it's actually a nightmare.
Health Director of the CSIRO, Dr Robert Grenfell, says: "Motivation, or lack of it, is one of the handbrakes that stop us from exercising. An effective way of building and sustaining motivation to exercise is to set a goal and do it with a group. After doing this there is a good chance it has set up some good habits of walking frequently."
So we need simple physical activities that are relatively painless to make us well. Cycling, swimming, surfing, yoga, soccer, netball, gym or kayaking are awesome, but you need skills and equipment for these.
Just going walking with your friends is cheap and easy. Studies show that walking with friends in nature distracts us from the pain of puffing up hills and stairs. And they can be done by obese and overweight people. You just need a goal, a buddy and a plan.
"Walking in nature appears to be better for you than exercising in a gym," Dr Grenfell says.
"When you are outside you have the wind, sunshine, trees, birds and things that make you feel good inside. This is great for your mental wellbeing. Also the irregular pathways assist in improving reflexes and muscle responses. Add some friends and you have an all-round great exercise experience. And it only costs your time."
Get outside and go for a walk. You'll feel so much better for it.